Energy-Efficiency Trek 2006: Garage Doors – the Final Frontier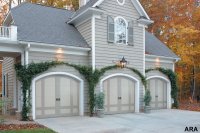 (ARA) – Caulk around doors and windows. Check. Blow extra insulation in the attic. Did it years ago. Make sure the damper is closed when not using the fireplace. Always do. Turn down the thermostat a little more. C'mon, how low do I need to go?
You've done a good job of implementing all the obvious energy-savings tips around your home, yet your energy bills are still high and you still feel a mysterious cold draft coming from somewhere within your home. Perhaps the draft is coming from someplace you have never considered. Make this the year to solve the cold draft mystery by discovering the last frontier for possible energy savings – your garage.
Let's face the energy truth: A garage door opening is basically an enormous hole in your home. If your garage is attached to your home, any cold air in the garage can travel through the doorway and directly into your living areas. An insulated garage door helps keep extreme cold and hot outside temperatures out of your garage, and, more important, out of your house.
'A garage is almost like a small house itself. Garages have their own set of windows and doors, and some garages even have smaller rooms, such as storage and laundry rooms, within them,' says Teresa Lowry, director of marketing for Amarr Garage Doors. 'Of course, the biggest door on the 'small house' is the main entrance – the garage door itself. And it can be a huge drain on energy consumption.'
We're not talking about installing a garage door that looks like bank vault door. Energy efficient insulated garage doors are no longer just a practical option; they now come in a wide variety of stylish options to coordinate with the exterior of any home. Unlike the plain white, flat-front garage doors of the 1950s, garage doors today are much more attractive, leading to a new enthusiasm for garage doors among consumers for new construction and remodeling – and energy savings.
Amarr has blazed the trail for insulated, and stylish, garage doors. In 2004, Amarr pioneered the now-popular look of steel doors that give the appearance of a carriage house door. That is the year the company launched the Classica Collection line of carriage house doors, which are constructed of steel and are layered with insulation for a higher degree of energy efficiency. Garage doors, however, do not have to be made of steel in order to be energy efficient.
The company's wood carriage house doors – the Bob Timberlake Collection, the Biltmore Estate For Your Home Collection and the Amarr by Design collection – are all built on an insulated steel base that provides extra strength and an extra thermal barrier against inclement weather. The garage doors not only provide energy efficiency, they are also a beautiful accent for a home, instantly adding style and architectural interest.
'In terms of saving energy, it is crucial to have a garage door that is highly energy-efficient in its design and construction,' Lowry said. 'In the past decade alone, a new generation of garage doors has emerged that is much more energy-efficient than older doors, and they come in a wide variety of styles and finishes to coordinate with the architecture of any home.'
Amarr's Biltmore Estate doors, fashioned to reflect the historic Biltmore House in Asheville, North Carolina, are built with energy-efficient materials and feature Western Red Cedar as the overlay because of its beauty and resistance to cracking, warping and twisting. There are a variety of woods from which to choose for the base of the door, including Western Red Cedar and MDO or T1-11 exterior plywood. The base is fastened to a 2-inch insulted commercial steel frame for extra durability and superior quality. To give the door the complete look of wood, Luan paneling is utilized as the interior backing.
Amarr's Bob Timberlake collection, based on designs from another North Carolina icon – noted artist Bob Timberlake – is an upscale choice for builders and buyers seeking a rugged nostalgic look that allows them to identify with a simpler lifestyle. All the doors are made by hand at the time of the order to ensure the finest craftsmanship available. Each door combines the strength of steel with the aesthetics of wood. Factory-installed polystyrene insulation provides an extra thermal barrier against inclement weather. The doors are constructed of Western Red Cedar and cedar overlays on a 24-gauge steel open back door that is insulated. All doors come with heavy-duty hardware, track, struts, 10-ball nylon rollers and torsion springs. Optional decorative exterior hardware in a rustic design is available in five distinctive looks that add to the illusion of old-fashioned carriage house doors that swing, slide or fold open. Windows are seeded glass, which adds character through its rich texture.
Regardless of which style you choose, chances are that a new garage door could help save energy this winter. For more information on energy-efficient Amarr doors or to find a dealer, visit www.amarr.com or call (800) 503-DOOR (3667).
Courtesy of ARA Content
---