A Designer's New Home: Taking the Stress Out of Home Renovations
(ARA) – After searching for more than four years, I finally bought a new home. It is a radical departure from my first home, a quaint 'cabin in the city.' This new home is definitely a 'loft in the country.' Modern in every sense of the word and designed by famed architect Charles Stinson, I found a slightly dated, but solid, gem with good bones.
Buying a home and moving are stressful enough. This year, I have resolved not to get stressed about the features of this 13-year-old home that need updating. Instead, I've prioritized what needs to get done to make my home comfortable — without the hassles of month-long renovations and planning. My plan calls for tackling the home's stale air, leaky kitchen faucet, loud master bathroom toilet and uncomfortable master bathroom tub. All these areas have easy-to-implement solutions that can make a big difference.
Breathing easier
Priority one is to improve the quality of the existing air because there's stale air throughout the house. I call it "70s air' because it reminds me of a childhood friend's split-level house, which always smelled like a musty basement. I also have allergies, so I am more sensitive to whether or not the air filter is working efficiently. Even though my heating and cooling systems are functional, the air cleaner technology is decades old.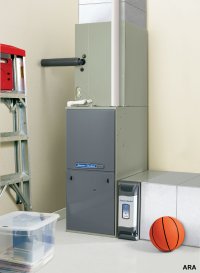 The perfect choice to improve my indoor air quality is American Standard's AccuClean air filtration system, which can retrofit to my current furnace and help me breathe easier. The system removes up to 99.98 percent of airborne particles and allergens from the air it heats and cools, and I will only have to clean the filters every six to nine months compared to one to three months for my existing system. My home seems to be well-insulated, which is a good thing when it comes to energy savings. But it also means that dust and indoor pollutants are being sealed inside my home. American Standard's AccuClean whole house air filtration system will give me the best of both worlds: energy efficiency and clean indoor air.
Finding peace and quiet — and style
I didn't notice the kitchen faucet until one Sunday afternoon when I was taking a nap. I could hear it dripping all the way across the living room. In trying to stop the leak, I noticed how grungy the entire faucet looked. These dated fixture symptoms were immediate grounds for faucet dismissal.
Replacing old faucets is one of the least stressful and most impactful things you can do to rejuvenate your kitchen and bathroom. I am seeking something sleek and contemporary, like American Standard's Culinaire Hi-Flow Pull-out Kitchen Faucet, which features a European style with a simple lever design that's perfect for the single hole already drilled into my existing island. It also comes with an EverClean finish, which prevents dirt and water spots from adhering to the faucet, making clean up a breeze.
Feeling relaxed
I took my first soak in the master bath the other day and thought the entire tub deck might lift off! Instead of a soothing soak, it reminded me of white water rafting with its loud jets. The noisy motor and some of the air bubble vents are located where your back rests, making it impossible to relax even if the main jets aren't running.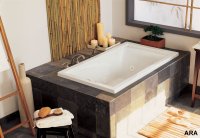 Bath manufacturers are offering more options to turn your bathroom into a spa.For example, American Standard Evolution tubs are up to 30 percent deeper and have a special design that keeps the jets flush against the tub for a comfortable soak. In addition, the tub has an antimicrobial finish that helps deter mold growth in the tub's plumbing and helps me keep it clean. I'm also de-stressing about something else in my master bathroom: my loud toilet that sounds like someone is dropping an anvil on the floor each time it's flushed. The easy solution is an American Standard Cadet 3 toilet featuring strong and quiet flushing power.
By updating these few areas, I've already made my home more comfortable and a place where I can de-stress — especially about remodeling and upgrading my new house.
Courtesy of ARA Content
---