Getting Ready for a Kitchen Remodel?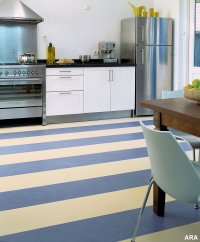 (ARA) – If cooking in limited space is a challenge, your countertops are cluttered and you have no cabinet space left, it may be time for a kitchen remodel. According to the national trade publication 'Kitchen & Bath Business,' an estimated 6 million households will embark on said adventure in the coming year.
If you'll be among the masses, make the process easier by putting some thought into it now. The National Kitchen and Bath Association recommends you start by-
Determining the main purpose for remodeling the room. Do you want to add more space or just better utilize the limited space you have?
Next, look into your options. Can you 'borrow' space from an adjoining dining room or will you have to add on space?
Prioritize the changes. Figure out what you want to change the most and what you can keep or just update.
Collect ideas and information. Look through books and magazines to get an idea of the 'look' you want. Make a clip book of all the pictures and ideas that represent your style. Visit home shows and collect brochures featuring products you like.
Determine your budget. According to Remodeling Magazine's 2005 Cost vs. Value report, the average kitchen remodel costs $43,862. If you don't have that kind of money to spend, don't despair. You can still remodel, just on a smaller scale.
One of the easiest, and least expensive ways to update a tired kitchen is to change the wall color and flooring. If you want to make the room appear larger, go with a shade of blue or green. If you want a more comfortable, cozy feel, yellows, reds and golds are the way to go.
To make the colors really pop, choose a flooring material that lets you be the designer. Marmoleum Click by Forbo (available in 18 colors) comes in easy to install 12-inch wide by 36-inch long panels. They can be combined with 12-inch by 12-inch squares for a wide variety of patterns and color combinations.
In the kitchen, islands and bars can be surrounded by color that will really set them apart from the rest of the room. Color can also be used to separate the kitchen from an adjoining dining room or great room. You can make the room appear larger by using light colors and simple patterns, or choose a busy pattern and darker colors to make the room feel cozier.
If you want the patterns to be the focal point of the room, you can install zig zags of alternating colors, or even checkerboards. The material can even be used on backsplashes.
Marmoelum Click is easily kept dirt and dust free, and tests show its anti-static and bactericidal properties prevent micro-organisms such as Staphylococcus from growing. Mold won't grow on it in the bathroom either.
To learn more about Marmoleum Click, or to find the dealer nearest you, log on to www.themarmoleumstore.com or call (866) MARMOLEUM.
Courtesy of ARA Content
---