Protecting Your Home and Your Pocketbook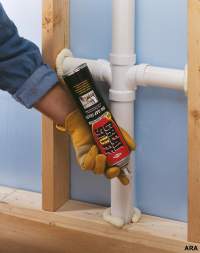 (ARA) – Spring is nearly here. Time to crack open the windows and clean the screens. Does your looming list of spring cleaning also involve home improvement projects? If not, consider adding energy-saving techniques to the list and you'll spare yourself the shock of this season's high energy bills.
The U.S. Energy Information Administration predicts that once again residential energy costs will be on the rise, so start your home improvements by inspecting for interior or exterior areas that could cause your energy bills to escalate./p
Air leaks are the leading cause of home cooling loss. 'Most homeowners don't realize that there are holes, gaps and cracks around the foundation, window and door frames, electrical outlets and plumbing lines. Even under the siding and in the basement,' explains Kevin Huber, project manager for a home builder in the DC-metro area. 'By sealing these areas, the problem can easily be fixed.'
Fixing these problem areas shouldn't break your pocketbook though. 'With a 400 percent increase in heating and cooling costs over the past decade, air-sealing your home is just one of many ways to save money and make your home more comfortable,' says Jeff Fancher, global brand manager for foam sealants at Dow. One of the simplest ways to seal cracks is with Great Stuff Insulating Foam Sealant by The Dow Chemical Company.
Fancher recommends the following home improvement tips to make your home more comfortable and energy-efficient:
Landscaping
Not only can a well-designed landscape add beauty to your home, it can also reduce your heating and cooling costs. Since you might already be planning to landscape this spring, beautify your home while you reduce your monthly energy bill. Newly planted trees will begin shading windows in their first year and will reach the roof in years five to 10. Add a row of shrubs or plants to create dead airspaces that insulate your home in both winter and summer.
Uneven Room Temperatures
Because only 20 percent of homes built before 1980 are well insulated, uneven room temperatures are a common complaint with older homes. This issue can be traced to air leakage, a poor HVAC (heating, ventilating and air conditioning) distribution system and insufficient insulation. The solution may be as easy as checking your HVAC system, installing proper insulation or air-sealing all areas that contribute to air leakage in the affected area.
Insulation and Air Sealing
If you feel uncomfortably cold in the winter or hot in the summer, or if you own an older home and haven't added insulation, consider doing an energy audit to check the insulation levels. Additional insulation can protect against air leaks, control moisture and save you 10 percent or more on your energy bills, according to the U.S. Department of Energy.
Mold, Mildew and High Humidity
In areas like the attic, humid air may become trapped inside the windows, producing condensation, and could eventually lead to mold and mildew. When left unchecked, it can cause wood to rot and could lead to respiratory problems for those with sensitivities and allergies. To minimize the problem, air-seal and insulate gaps between the attic and living quarters.
An added benefit to insulating your home is a reduction in pesky insects. 'Aside from sealing gaps and cracks, a permanent foam sealant will close open pathways where insects enter the house,' added Fancher.
Great Stuff Insulating Foam Sealant is available in three different varieties: Gaps and Cracks for voids up to 1-1/2 inches wide; Big Gap Filler, a triple-expanding formula for larger holes; and Window and Door, which forms a soft, flexible seal without exerting pressure in the frame.
For more information and energy-saving tips, visit www.dowgreatstuff.com.
Editor's Note: Dow is a diversified chemical company that harnesses the power of science and technology to improve living daily. The Company offers a broad range of innovative products and services to customers in more than 175 countries, helping them to provide everything from fresh water, food and pharmaceuticals to paints, packaging and personal care products. Built on a commitment to its principles of sustainability, Dow has annual sales of $46 billion and employs 42,000 people worldwide. References to 'Dow' or the 'Company' mean The Dow Chemical Company and its consolidated subsidiaries unless otherwise expressly noted. More information about Dow can be found at www.dow.com.
Great Stuff is a trademark of The Dow Chemical Company ('Dow') or an affiliated company of Dow.
Courtesy of ARA Content
---