Retaining Walls Give Front Entry More Curb Appeal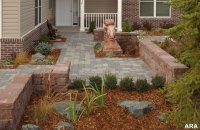 (ARA) – Want to give your home a facelift without undergoing a total remodel or taking out a second mortgage? Consider replacing your old front stoop with a front-entry courtyard that's both eye-catching and functional.
Front-entry makeovers are one of the hottest trends in landscape design these days. And homeowners are turning to versatile materials such as segmental retaining walls to achieve their new look.
'People are spending more time at home entertaining, and they want to utilize more than just the back yard for guests and socializing,' says Jim Christensen, senior landscape architect at Villa Landscapes in Oakdale, Minn. 'A well-designed front-entry courtyard accomplishes that while also updating their home and adding curb appeal to it.'
The concept has come full circle since the days of yesteryear, when front porches were commonplace and backyard decks and patios didn't exist. Here's a look at two different treatments of front-entry courtyards and how they transformed existing homes to make them more 'visitor friendly.'
New Look, Old ConceptVilla Landscapes transformed a rambler's small and mundane concrete-slab front stoop into a sweeping paver patio and pergola-covered entryway defined by Versa-Lok retaining walls and columns. The stunning result took the home to a whole new level.
'The original house had a 4-foot-wide step to access the front door,' Christensen explains. The owner wanted to provide more useable space for traffic flow through the front door while creating a sense of an old-fashioned front porch. In addition, he wanted to use materials that would complement the existing home and also be low- or minimal-maintenance.
Versa-Lok retaining walls in a charcoal-blend color were used for seat-height freestanding walls and columns to create the new porch space. Willow Creek paving stones in a matching color were used for the patio and walkway surface. The boring square front stoop was transformed into an attractive rounded step that protrudes from the patio, flanked by two columns and faced with a veneer made from slicing off the back of a Versa-Lok retaining wall block. The curved lines of the step are repeated in the walkway and in a round raised-bed garden.
Extending from the front of the house, the pergola is supported by classy white pillars mounted inside freestanding Versa-Lok columns.
'What began as a cold and somewhat clumsy entrance to the house is now a bright and inviting gathering place, and the owners love it.'
Freestanding Walls Define the SpaceWhen a client moved from a large home with acreage to a new townhome on a small lot, she told the landscape designer she still wanted to be able to entertain up to 20 guests at a time outdoors. As part of that plan, she wanted a large front-entry courtyard to serve as an extension of her front porch — a spot to sit and visit with guests and neighbors.
'The concept was to create an entry courtyard that would serve as both a circulation path and a gathering space,' explains Christensen. A series of freestanding seat-walls leads from the street to the front door to define the space and provide a framework for a sculpture centerpiece. Hedges planted between the wall segments eventually will become extensions of the walls to further define the space.
'We used Versa-Lok retaining walls in a Weathered texture and rose-charcoal blended color to create a sense of age and complement the existing red brick on the home's exterior. The solid-block Versa-Lok system works well for freestanding walls because you can easily split off the backs of the wall units to achieve a two-sided texture.'
Charcoal-gray Willow Creek paving stones blended with natural stone was used for most of the walkway surfaces.
'Wall systems like Versa-Lok are capable of doing much more to shape landscapes than just retain soil,' concludes Christensen. 'Used in a front-entry courtyard, they can give a home a fresh, upscale look on a modest budget.'
For more information on how you can use segmental retaining walls to give your home a front-entry makeover, contact Versa-Lok Retaining Wall Systems at (800) 770-4525, or visit www.versa-lok.com.
Courtesy of ARA Content
---