How Insulating Your Home Saves Money- Part 1
Heating and cooling your home accounts for about 50 percent to 70 percent of the energy used in your home. Unless your home was built as an energy-efficient home, adding insulation will probably reduce your utility bills. Even a small amount of insulation-if properly installed-can reduce energy costs dramatically.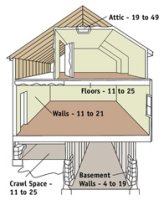 You should insulate all areas of your home. Insulation priorities include your attic, including the attic access door, under floors above unheated basements or crawl spaces, and on the edges of concrete slabs. Your options for insulating existing walls are somewhat limited. However, if you are remodeling or residing your home, use the amounts of insulation recommended for new construction. This image shows you where to insulate and also contains the range of recommended R-values for each of those areas in your house. The R-value changes because of the type of heat you use and where you live. It also changes between new and existing homes. To find the recommended R-value for the area of the country you live in, contact your local electric company or gas company. You can also find the recommended R-value by zip code and heat source at the Department of Energy Web site, www.eren.doe.gov.
It's interesting to note that the greatest energy savings come from the first inch of insulation installed. You can add more insulation to increase your savings, but a small amount of insulation is almost a must for your home to be comfortable. Keep in mind that for insulation to work properly the air spaces in the insulation must be maintained. Packing too much insulation into an area will reduce the effectiveness of the insulation.
Savings from wall insulation are almost equal to those you'll get from ceiling insulation.
You can further increase your energy savings, up to 10 percent, by plugging any air leaks prior to insulating. Obvious air leaks can be found around doors, windows, fireplaces and chimneys. Some not-so-obvious air leaks can be found around electrical switches and outlets, pull-down attic stairs, pipes, and behind bathtub and shower stall units. These leaks are often much greater than the obvious ones. However, taking care of these leaks alone cannot do the job-you must also have insulation.
For home improvement advice, visit JS West Lumber & Ace Hardware Sonora, Ca. or visit www.acehardware.com and click on the Answers@Ace icon. Answers@Ace is an online resource with information for do-it-yourselfers about hardware and home improvement projects. The Everyday Projects section has pictures and detailed, step-by-step instructions for this and many more home improvement projects. To speak to an Ace Hardware advisor in Sonora call: 209 532 7446.
---