Most Kitchens Are Designed Around Four Work Centers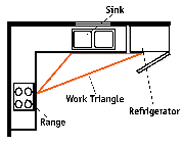 The Cleanup Center around the sink should have at least 18′ to 30′ on one side, and 48′ to 54′ on the other, to allow enough room to stack dishes, pans and utensils. Always plan for at least 12′ between the sink and the nearest corner, measured from the front of the counter.
The Cooking Center around the range requires 12′ minimum on one side of the range, and 15′ to 24′ on the other side, again with 12′ minimum to the nearest corner. Microwaves and built-in ovens should have at least 15′ to 18′ counter space on the right side (assuming the door is hinged on the left side).
The Storage Center around the refrigerator needs 15′ to 18′ on the handle side of the refrigerator, to set food.
The Mixing/Preparation Center should be handy to pans, bowls and utensils, and should consist of at least 42′ to 84′ of free counter space.If space permits, some designers also include a serving center-another 36′ to 84′ of free counter space to set bowls and pans.As you design, you'll also want to plan for the following minimum clearances so you'll have room to work:
There should be at least a 42′ clearance from the front edge of the counter top to the nearest table or island.
Leave at least 20′ from the front edge of the dishwasher door (when open) to the nearest obstruction, so you'll have room to load and unload.
Plan for at least 26′ between the kitchen work area and the nearest traffic path.
Allow 36′ between the nearest obstruction and an eating table, so there is room to pull a chair away from the table.
For home improvement advice, visit JS West Lumber & Ace Hardware Sonora, Ca. or visit www.acehardware.com and click on the Answers@Ace icon. Answers@Ace is an online resource with information for do-it-yourselfers about hardware and home improvement projects. The Everyday Projects section has pictures and detailed, step-by-step instructions for this and many more home improvement projects.
---
To speak to an Ace Hardware advisor in Sonora call: 209 532 7446.
---