Get Your House In Shape For Football Season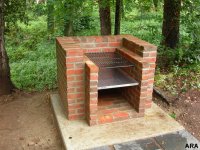 (ARA) – Summer is coming to an end and you know what that means — the 2008 football season is just around the corner. In less than a month the season begins, and if you want your home to gain a reputation of being 'the place' to enjoy the game, now is the time to start getting ready.
A good place to start is by stocking up on supplies: disposable cups, plates, napkins, serving trays and utensils; soda and bottled water; chips and pretzels; and all the right gear to cheer on your team. You'll also have to decide where everyone will gather to watch the big game, keeping in mind, as long as the weather is nice, the 'best place in the house' won't be in the house at all, but in your outdoor living room.
According to the National Association of the Remodeling Industry (NARI), extending the footprint of your home by creating living space outside is one of the hottest trends in home remodeling right now. Gone are the days when all you had outside was some patio furniture.
These days, people's backyards have all the comforts of home — a relaxing place to sit, electrical connections for televisions and stereos and a refrigerator where snacks and drinks can be stored. People are also putting in outdoor ovens that do double duty, not only providing a place to cook brats and burgers, but on those upcoming cold winter days, warmth as well.
If you don't have a barbeque oven yet, but want to create an outdoor living space in time for football season, start by deciding where it should go, then invite some friends over to help you build one. Here's how:
Required materials:
Sakrete All-Purpose Gravel
Sakrete Type N Mortar Mix
Two (2) Metal grates
Required tools:
Plasterer's trowel
Hoe
Mixing box
Level
Four (4) wooden posts (2x4s)
Optional: sill plate
Directions:
Map out area for concrete footing with wooden posts and secure them in the ground. Lay a level bed of Sakrete All-Purpose gravel and pack it even. Pour a concrete footing about four to six inches thick. Let the slab cure for 24 to 48 hours before beginning to lay the brick.
Begin building walls with a layer of Sakrete Type N Mortar between the footing and the first layer of brick. You should begin at the corners and work inward. Check after each layer with a level to make sure your finished product will be level.
When the structure is 2/3 of its scheduled height, place a row of bricks protruding to the inside to create a ridge for the metal grate (purchased at your local hardware store) to rest on, then do it again several layers up to create enough space between grates for charcoal.
Once the barbeque walls are complete, to install a sill plate to provide a means to set and anchor the roof or floor joists. The sill plate is also anchored with bolts into the block cells filled with Portland cement grout.
Place metal grates inside grill and fill the lower with the charcoal.
Enjoy!
For more detailed directions on constructing a slab footing and laying block and brick for your barbeque, log on to www.sakrete.com and click on the link that says 'Take Me to the Sakrete Project Center.' Sakrete products are available at your local hardware and building supply retailer.
Once the barbeque is built, take the time to trim back any overgrown vegetation and, of course, mow the lawn the day before your guests are set to arrive so the yard will look neat, tidy and inviting — just like a well-manicured football field. Sit back, crack open your favorite beverage and listen to your friends talk about your house being the entertainment mecca.
Courtesy of ARA Content
For home improvement advice, visit JS West Lumber & Ace Hardware Sonora, Ca. or visit www.acehardware.com and click on the Answers@Ace icon. Answers@Ace is an online resource with information for do-it-yourselfers about hardware and home improvement projects. The Everyday Projects section has pictures and detailed, step-by-step instructions for this and many more home improvement projects.
---
To speak to an Ace Hardware advisor in Sonora call: 209 532 7446.
---