Old World Charm Thrives in Modern Home Decor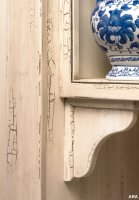 (ARA) – Old World design is all the rage in the New World these days. Home owners and their builders are reworking neglected old properties and constructing brand new villas that celebrate many of the architectural details and finishing touches brought from England, France, Italy and Spain during the 17th and 18th centuries.
Kitchens and baths are often the spaces most dramatically influenced by design elements from days of old. Today cabinetry and faucet fixtures in the kitchen and bath are taking on new looks that actually steal concepts from old standbys. Homeowners want to create kitchens and baths that feel as though they were built centuries ago. A perfect way to achieve that old world look is with finishes that have been created to look old, but perform with all of the dynamics of modern day.
Plain & Fancy Custom Cabinetry is one cabinetry manufacturer who is offering finishes that bring the old together with the new. For example, the brush mark crackle finish uses an eleven step, hand applied process to create the effect of a 17th or 18th century antique, but without the hassles and dangers of original antique finishes.
'This new finish is really interesting,' says George Achey, president of Plain & Fancy Custom Cabinetry, the forty year old company that has kept up with the tradition of craftsmanship by offering custom cabinetry that is classic while integrating the latest technology. 'It uses the newest glaze, paint and finishing technologies to create a look that could easily be 100 years old. The good thing is that, even though the finish is 'crackled' there are no signs of chipping and the finishes aren't lead-based like some original antiques, so homeowners don't have to worry about harmful toxic paint.'
Add the fact that many of these finishes are offered in a range of colors from white to black and a full a spectrum in between, and you have complete customizable options. Gorgeous old world inspired faucets and fixtures are the details that give kitchens and baths the charm of the old while offering all of the best in innovation of today.
Since these finishes are often best expressed on pieces with intricate details like carved moldings, mantels and korbels, they are perfect complements to homes trying to recreate old world elegance while also maintaining modern day amenities. Whether used simply on an accent piece or on a wall of cabinets coupled with modern day appliances, these finishing techniques are a great way to intermingle the old with the new. This trend continues to be especially popular with custom builders and designers who often take upwards of two years to complete that perfect new home that looks as though it has been around for years.
Publications like New Old House magazine, have touted the beauty of creating a lovely new house with classical details that evoke a sense of heritage. Basically, today it's all about creating a new home that echoes the past while keeping all of the comforts of current lifestyles. Often finding the perfect elements to achieve this look is difficult. Working with craftspeople, who revere the techniques of the past but leverage the technologies of today, offers the home owner solutions not available previously.
For more information on these 'new/old' finishes visit www.plainfancycabinetry.com.
Courtesy of ARAcontent
For home improvement advice, visit JS West Lumber & Ace Hardware Sonora, Ca. or visit www.acehardware.com and click on the Answers@Ace icon. Answers@Ace is an online resource with information for do-it-yourselfers about hardware and home improvement projects. The Everyday Projects section has pictures and detailed, step-by-step instructions for this and many more home improvement projects.
---
To speak to an Ace Hardware advisor in Sonora call: 209 532 7446.
---