It's Easy Being Green When Painting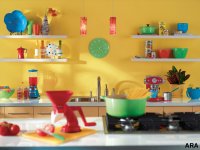 (ARA) – As we become more aware of the impact our choices have on the world around us, there are plenty of simple do-it-yourself projects to embrace that can beautify a home while still being kind to the environment.
Whether it's adding energy-efficient lighting or appliances, upgrading to water-saving plumbing fixtures or painting walls with a fresh coat of environmentally friendly paint, a few smart home-improvement decisions can make it easier than ever to be 'green.'
'Homeowners can easily incorporate 'green' elements into their living space,' says Dan Johnston, national director of the American Lung Association's Health House program, which aims to educate consumers about the importance of indoor air quality. 'Products such as low-VOC paint are not only better for the environment, but can also improve air quality within the home.'
Paint is one of the quickest ways to 'green' your home while sprucing up its appearance. What could be easier than refreshing a child's room, kitchen or bath with colorful hues that not only look stunning, but will dazzle for years and are gentle to the environment and the well-being of the home's residents?
No matter what color you choose to incorporate into your space, here is some expert advice to keep in mind when it comes to paint selection that is both good for your home and the environment:
VOCs: How Low Can You Go?The buzzword (or initials) in paint these days is VOC, or volatile organic compound. Simply put, VOCs are vapors that can be detected by odors in the air — such as gasoline emissions or even the smell of pizza — that can affect a home's indoor air quality.
When it comes to paint, look for products that have low to no VOCs. For example, Harmony Interior Latex from Sherwin-Williams is a zero-VOC, low-odor coating that allows for immediate use of newly painted spaces. That makes it an ideal selection for rooms such as nurseries or kids' play areas.
'A low or no-VOC paint is a great 'green' option for any do-it-yourselfer,' says Steve Revnew, director of marketing, product development for Sherwin-Williams. 'With a product like Harmony, you do not have to wait for paint fumes to dissipate before moving back into a space. This paint can even be applied with other family members in the room.'
Don't Sweat The Small Stuff — Or the SplattersWith advancements in environmentally friendly paint, you won't have to worry about cooking splatters and spots in the kitchen; water marks in the steamy bath; or remnants of your kids' murals on the family room walls. In other words, using 'green' paint doesn't mean that you have to sacrifice quality or durability.
Products such as Duration Home Interior Latex from Sherwin-Williams, allow you to wipe away most smudges, spills and splatters with water or mild soap without scrubbing. And its antimicrobial properties resist mildew and mold, making it a good choice for high-traffic kitchens, baths, hallways and children's rooms — anywhere long-lasting stain resistance is essential. This paint also negates the worry of unsightly burnish marks — the 'shiny' spots that can appear when walls are cleaned or accidentally rubbed.
Confident In ColorFinally, you'll want to look for an environmentally friendly paint that maintains its color without rubbing off. Ask the store representative how well the paint washes even in the deep, bold accent colors that are popular today for the home. In the past, a drawback to using these bright hues has been how poorly they wash, but new technology creates a smooth paint surface guaranteeing enduring results.
In the long run, a vast number of environmentally friendly products for your dwelling abound and refreshing your home with a splash of paint is a simple way to put a little 'green' into your home – without compromising on quality or spending a lot of 'green.'
For more information on environmentally friendly paint solutions, visit sherwin-williams.com or your neighborhood Sherwin-Williams store.
Courtesy of ARA Content
For home improvement advice, visit JS West Lumber & Ace Hardware Sonora, Ca. or visit www.acehardware.com and click on the Answers@Ace icon. Answers@Ace is an online resource with information for do-it-yourselfers about hardware and home improvement projects. The Everyday Projects section has pictures and detailed, step-by-step instructions for this and many more home improvement projects.
---
To speak to an Ace Hardware advisor in Sonora call: 209 532 7446.
---