Basic Rules for Outdoor Lighting Installation- Part 1 of 7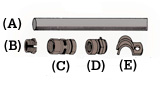 Your first step should be to check local codes regarding outdoor lighting. Be sure to follow these code requirements carefully.
Always use type UF cable for installations requiring underground wiring. The UF implies that there must be a fuse or breaker inside the house at the starting point of the underground wiring installation.
For your outdoor lighting project, use only those materials that have an Underwriter's Laboratory (UL) approval.
Cable used for underground installations must contain a grounding conductor. Outdoor fixtures must be grounded for complete safety.
Use conduit to protect the cable where it is exposed above ground and where bends are made below ground (see image).
Some local codes may require you to cover the entire cable with conduit.
Many local codes now require outdoor circuits to be protected with GFIs, Ground Fault Interrupters. There are two basic types of GFIs. One is designed to be installed in a circuit breaker box. The other is designed to fit into outlet boxes. Check your local code.
Always bury any underground cable at least 18′ deep, but 24′ is preferable. Cables buried at least 24′ deep are less likely to be bothered by spading forks and other tools commonly used around the yard.
For any outside wiring installation, always use weatherproof equipment, such as boxes, receptacles, etc.
Remember to shut off the electrical current at the main switch before starting any underground wiring tie-in.
Check your state and local codes before starting any project. Follow all safety precautions. Information in this document has been furnished by the National Retail Hardware Association (NRHA) and associated contributors. Every effort has been made to ensure accuracy and safety. Neither NRHA, any contributor nor the retailer can be held responsible for damages or injuries resulting from the use of the information in this document.
For home improvement advice, visit JS West Lumber & Ace Hardware Sonora, Ca. or visit www.acehardware.com and click on the Answers@Ace icon. Answers@Ace is an online resource with information for do-it-yourselfers about hardware and home improvement projects. The Everyday Projects section has pictures and detailed, step-by-step instructions for this and many more home improvement projects.
---
To speak to an Ace Hardware advisor in Sonora call: 209 532 7446.
---