Out with the Old, in with the New Windows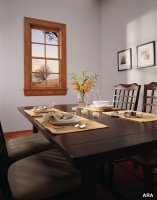 (ARA) – As the season for home remodeling and DIY projects gets under way, evaluating a home's list of needs and repairs becomes top priority.
When determining what remodeling projects are most deserving, homeowners should consider that windows offer some of the biggest payoffs. According to Remodeling Magazine's 'Cost vs. Value Report,' when updating windows, homeowners can expect up to an 85 percent return on investment. Coupled with the energy cost savings, it usually pays to replace.
'Windows make that all-important first impression, and for this and many other reasons they should be in good working order,' says Rod Clark, window marketing manager for JELD-WEN. 'Windows and doors have a direct impact on energy conservation, security and aesthetics.'
Below is a checklist to help homeowners decide if replacing windows is the right choice.
How to Evaluate Windows for Replacement
Examine Your Existing Windows

If your window shows signs of wear and tear or exposure, such as cracked paint, but operates normally, then it's likely time to refinish it according to the manufacturer's instructions. If vinyl windows show signs of seal failure between the glass panes, or wood windows have severe warping due to moisture or wood decay, then it's time to replace.

Evaluate Problems

In addition to normal wear and tear and energy efficiency, there are a few other indicators that window replacement is needed. Signs to look for include:

Problems opening or closing. In older homes, wood windows may have been painted over numerous times or may have become severely warped due to age and weather conditions. Windows that don't open and close easily or properly are more than just annoying; they are a safety issue and a sign that it's time to replace them.
Drafts. There are many tests to determine if a window is drafty, such as placing a lighted candle next to the window to see if the flame moves. If it does, your windows are drafty and your energy bills are paying the price and it is time to replace.
Excess noise. Older, single-pane windows don't block as much noise as new double-pane windows. If you can hear your neighbors chatting across the street as they are getting their mail, it's probably time to upgrade your windows.

Consider Energy Efficiency

Classic signs of inefficient windows include condensation, drafts and warped frames due to moisture. If energy efficiency is the top priority or water infiltration is an issue, the best choice is to replace poorly performing windows and patio doors with ENERGY STAR qualified windows. Manufacturers such as JELD-WEN offer wood, vinyl and aluminum ENERGY STAR qualified windows. When replacing single-pane windows with ENERGY STAR qualified windows, homeowners can save $125 to $340 a year, depending on the climate.

Determine How Much Impact Replacement Will Have on a Home

Upgrading to energy efficient windows has become much easier as new products and technology emerge. In the past, window replacement has been a more complex project best suited for professional contractors or highly skilled do-it-yourselfers. However, replacement windows, such as JELD-WEN's Wood Double-Hung Pocket Window and Vinyl replacement windows, make it easier and less expensive.

When choosing replacement windows, look for ones that are designed for installation into existing window frames to help make sure the impact to the exterior of the home is minimal. This is key, especially for brick or stucco exteriors. By using replacement windows designed to fit into existing openings, the process is simpler, quicker and minimizes wear on the exterior siding.

Evaluate the Need for a Contractor

If you can't do the replacement on your own, hiring a contractor may be the best way to go. Hiring a contractor can save time, cut down on stress and ensure projects are done correctly. When hiring a contractor, be sure to interview several candidates, ask for references and don't automatically choose the lowest bidder. Insist that they follow proper installation instructions from the manufacturer to ensure reliable performance.
For more information about JELD-WEN replacement windows, or to find a dealer near you, visit www.jeld-wen.com or call (800) 877-9482.
Courtesy of ARAcontent
---