Solar Water Heating is Heating Up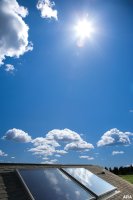 (ARA) – There's another hot new trend in green homebuilding and remodeling. Advances in technology, coupled with rising energy prices, are resulting in growing interest in solar water-heating systems when green-minded consumers build or remodel homes.
'Five years ago, when oil prices hovered around $20 a barrel and the price at the pump was just above $1 a gallon, energy costs barely registered among Americans' top concerns,' says Josh Plaisted, president of Kineo Design Group, a Berkley, Calif.-based engineering and consulting company that specializes in product design and development in the solar industry.
'Today, you will find high energy costs among the top five concerns of consumers,' he says. 'Whether it's natural gas, electricity or gasoline prices, energy weighs heavily on their minds, and they are clamoring for solutions.'
According to Plaisted, consumers can have the greatest impact on their energy costs by reconsidering how they heat their water. The average household spends about 25 percent of its home energy costs on heating water, he says, noting that solar water-heating offers homeowners not only a solution to rising energy costs, but also environmental benefits.
Solar water-heating was named one of the top 10 technologies for 2007 by Housing and Urban Development's Partnership for Advancing Technology in Housing (PATH) Program.
The U.S. Department of Energy, in its EERE Consumer's Guide, says that, 'On average, if you install a solar water-heater, your water-heating bills should drop 50 to 80 percent. Also, because the sun is free, you're protected from future fuel shortages and price hikes.'
VELUX America, the leading manufacturer of skylights in the United States, is introducing a solar hot water heating system here utilizing technology developed by the parent company in Denmark and proven through years of service in Europe.
Tim Miller, president of VELUX America, says that every solar water-heating system installed in America will help to reduce the nation's reliance on fossil fuels while reducing greenhouse gas emissions. He points out that solar water-heating is another opportunity for individual homeowners to support the green movement while realizing benefits now and for years to come.
The cost of an installed system will vary depending upon the volume of heated water required in a home. Two to three rooftop solar collector panels will usually be installed and solar hot water holding tanks are available in 80 and 120-gallon sizes. An average installation is projected to cost around $7,500.
Federal tax credits can help pay 30 percent — up to $2,000 — for a system and some states and utilities offer additional support, resulting in credits that could offset up to half the cost. This, combined with savings on home energy bills, should result in an anticipated payback period of three to seven years in most areas depending on geographic location, utility rates and other factors.
The solar energy roof collectors look very much like low profile skylights and integrate well with rooflines. The collectors are certified by independent testing agencies in Europe (Solar Keymark) and in the United States (SRCC).
'Solar thermal water heating is not new to the United States – this country was the world leader in the industry following the energy crisis of the early 1980s,' says Jim Cika, manager, solar products, for VELUX. 'However, in the mid to late 1980s, as the cost of energy suddenly sank to record lows, American consumers were once again enjoying cheap oil, federal and state tax subsidizes for solar water heaters were eliminated in the U.S., and the demand for solar systems came abruptly to an end.'
As the American market for solar water heating products was collapsing, Germany, Austria and other European countries continued to focus on product innovation, Cika says.
'European countries saw what was happening in the United States in the 1980s, took the technology and continued innovating,' he says, noting that the U.S. Department of Energy reports that 82 percent of all greenhouse gas emitted by human activity is energy-related carbon dioxide. 'They made solar water heaters more energy efficient and more cost efficient. Twenty years later, Europe is a global leader in solar water heating technology, and now this technology is returning to the United States.'
For more information on the benefits of solar water heating, call (800) 283-2831 or visit veluxusa.com/solar.
Courtesy of ARA Content
---