Secrets to a Successful Container Garden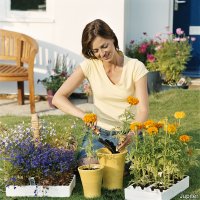 (ARA) – Now that warmer temperatures have finally arrived, you're probably itching to get outside and start planting. But what if you don't have a lot of space to work with or a lot of time?
Outdoor container gardening is an easy way to add splashes of color to all your outdoor spaces — the deck, patio, porch or windowsill — and regardless of your gardening experience or level of expertise, it's really as easy as 1-2-3. One, plan ahead; two, plant your containers; and three, maintain them.
Whether you're a first-timer or veteran, here are some tips for getting the best looking, lush flower pots in the neighborhood:
Planning

Begin by thinking about the color schemes you'd like to enhance your patio or deck. How will the flowers on your deck accent your kitchen's decor? Think about what you planted last year, what worked and what didn't and what exciting new varieties are available. Look at books and magazines for ideas and how you'd like your own containers to look.

Consider your light conditions and what plants work well together — shade foliage won't grow well in conditions appropriate for, say, a Geranium. Toy with interesting textures and leaf colors in addition to bloom colors. A variety of foliage adds unique depth to your garden. Herbs and vegetables are becoming a popular trend. A corn plant by itself, for instance, as the main focal point is rather stunning. Snow peas growing up a post create curiosity. Purple basil, arugula, oregano and nasturtium are lovely flowering edible plants.

Plant Your Containers

First, remember that trying to grow anything in containers with dirt from outside is a recipe for disaster. Gardening expert Felder Rushing, a horticulturalist from Mississippi who has written or co-authored 15 gardening books, says it's imperative that you use quality potting soil if you want your plants to thrive. 'The expense can be a turn-off though, so I recommend people make their own,' he says. 'For the most simple mix, all you need is a bag of cheap potting soil with some finely ground bark mulch. Mix the two 50/50 and you'll be all set.' In his book, 'Container Gardening,' Rushing recommends other soil mix recipes that include sand, perlite, vermiculate and lime.

No matter what you plant, Rushing stresses that plant roots need air in order to take in water and nutrients. 'Pots with clogged drainage holes are plant killers,' he says.

'Roots, potting soil or other debris can keep water from draining out of pots, which can lead to root drowning or even root rot. Every pot needs a clear drain hole.' Experts also agree that a plant's roots need air in order to 'breath' oxygenâ