Top Tips for a Healthy Lawn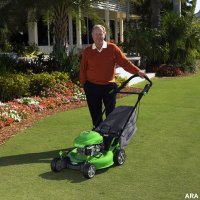 (ARA) – Whether you're on the golf course or in your own backyard, spring and summer are all about enjoying the outdoors. The right tools and techniques will help turn your lawn into a golf course-quality green space all year long.
To bring home that message, golf legend Jack Nicklaus, who has been named the Greatest Golfer of the Last Millennium by numerous media outlets worldwide and today is the world's leading golf course designer, has joined with the turf specialists at Lawn-Boy to put together a series of outdoor-living tips available at www.NicklausTips.com.
Nicklaus sees a solid connection between lawn care and golf. 'Many people put energy into their yards the way I put energy into the game and the business of golf,' he says. 'I respect that.'
Turf expert Paul B. Latshaw, superintendent at Muirfield Village Golf Club, Nicklaus' home course in Ohio, says, 'Turning your attention to the turf in early spring makes all the difference. Just like in golf, a little work now will really pay off throughout the season.'
Here are a few pieces of expert advice for a championship season — on the links or on the lawn:
Get your equipment into shape.After sitting unused for several months, spring is the perfect time to check and change your mower's oil, air filter, and spark plug or plugs. Check your blade to see if it needs sharpening or replacing. You may want to contact your local dealer to schedule a spring tune-up.
Use the right mower. Today's mowers combine professional-level effectiveness with lots of user-friendly features to make mowing easier on the body. When designing its new line of mowers, Lawn-Boy interviewed hundreds of homeowners and used their feedback to come up with innovative features like an easily adjustable handle height, a bag you can remove with one hand, and a self-propel system that automatically senses and adjusts to your walking speed. 'In golf, there are dozens of technology and equipment choices. The same is true when people are trying to find the right lawn mower,' says Nicklaus. To find the right mower for you and your home, check out www.FindYourMower.com.
Fix bare spots. You probably don't have divots in your backyard, but you might notice a few unsightly bare spots that need fixing due to disease or pets. They're easy to repair. Just clear away the dead-looking patches, sprinkle grass seed on the newly exposed soil, add fertilizer, and keep the area moist.
Aerate. Golf courses aerate regularly to loosen the soil and to let water, air and fertilizer make their way down to the grass plant's roots. Home lawns can benefit from this procedure as well. Mature lawns can often become compacted, reducing the ability of critical nutrients to reach grass roots.
And don't forget to tune up for golf, too. A technique taught at the Nicklaus Academies connects right back to yard care. A great way to visualize hip turn for a good golf swing is to imagine you're pulling the starting cord on your Lawn-Boy. The twisting action of your hips is just what you need for your backswing.
For more golf and yard care tips, visit www.NicklausTips.com
Courtesy of ARA Content
---