Make the Most of Your Tax Rebate: Reinvest in Your Home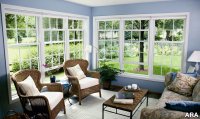 (ARA) – In an effort to jumpstart the struggling economy, the federal government has approved an economic stimulus package that will send rebate checks to qualifying taxpayers, some as early as May. Homeowners can use this refund to invest in home improvements that add value in a difficult housing market.
Qualifying individual taxpayers will get up to $600 in rebates, working couples $1,200 and those with children an additional $300 per child. Add that to the average refund some taxpayers can expect after filing their taxes ($2,548 in 2007, according to CNNMoney.com) and that's approximately $3,800 in total refunds from the federal government this year.
Investing these dollars in home improvements, such as replacing old leaky windows with newer, energy efficient ones, can offer homeowners a significant return on investment. Some experts believe that replacement windows are one of the best home improvement investments you can make in your home.
'Remodeling Magazine's' 2007 Cost vs Value Report estimates that a homeowner may recoup 81 percent of the cost of installing low maintenance replacement windows at resale. That means on an $8,000 window replacement project, homeowners may recoup $6,480 at the time of sale.
In addition, new energy efficient windows can lower heating and cooling bills, improve a home's comfort and aesthetics, and add long-lasting value.
There are some important things to keep in mind when choosing new energy efficient windows. Craig Evanich, president of Renewal by Andersen, suggests homeowners look for the ENERGY STAR label to ensure that they are energy efficient. According to the U.S. Department of Energy, replacing inefficient single pane windows with ENERGY STAR qualified windows could save up to 15 percent on your energy bills.
Evanich adds that Renewal by Andersen energy efficient windows are designed to perform at even higher standards. They come standard with High-Performance Low-E4 glass which is over 14 percent more energy efficient than stringent ENERGY STAR requirements and is 56 percent more energy efficient in summer than ordinary dual pane glass.
With a substantial savings in energy costs along with a solid return on investment from home improvement projects, buying energy efficient windows is a wise use of your rebate dollars. And, if you ever decide to sell your home, energy efficient windows can give you the edge — and often a higher resale value — over other sellers in an increasingly competitive housing market.
For more information on choosing energy efficient windows, visit renewalbyandersen.com or call (800) 630-5838.
Courtesy of ARAcontent
---