Eye-Fooling Faux Designs Add Style and Savings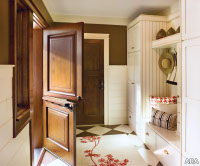 (ARA) – It has been said that imitation is the sincerest form of flattery. So when it comes to selecting the right home improvement materials for remodeling projects, more homeowners are discovering they can achieve fabulous looks by going faux.
In a recent study from the National Association of Home Builders, more than half of homeowners surveyed have either made recent renovations or are in the process of upgrading. With an increased focus on long-term home investments, builders and remodelers are turning to alternative building products that will hold up to the wear and tear that time and environmental factors can cause.
'Good faux products resemble their original counterparts and require limited maintenance,' says Elizabeth Souders, product marketing manager at JELD-WEN Windows & Doors.
From durable doors to more natural-looking lawns, alternative building materials are providing homeowners with high style and cost saving options. Here are some of the best examples of faux on the market today.
Fiberglass Adds Finesse to Exterior Doors
One of the most dramatic examples of just how far faux has come is the use of fiberglass in exterior doors. Real wood doors are beautiful, yet vulnerable to the elements. High-tech fiberglass doors look almost exactly like wood and require virtually no maintenance.
'Our fiberglass exterior doors are easier to maintain in any climate and insulate as well as their wooden counterparts,' says Souders. 'They are also more resistant to dents, warp and decay.'
One exterior door that adds practicality and a modern touch to traditional home designs, including popular Craftsman and Colonial styles, is the Dutch door. Consisting of an upper and lower section that can be opened independently of each other, the fiberglass Dutch door is a practical way to maintain a sense of security and privacy with minimal upkeep.
Shape Garage Door Style with Composite
As the largest opening in most homes, garage doors can give the exterior an attractive, custom appearance, or become an unsightly distraction. Wood can be beautiful, but also very costly, heavy, and time-consuming to maintain. The materials used in constructing composite garage doors replicate the beauty of wood but cost less and require less maintenance hassle. Going with composite rather than metal allows the homeowner to avoid the potential problems of rusting and denting. The best of both worlds, composite garage doors are available in a wide array of designs to complement any home style.
Bring Renewable Bamboo Underfoot
Hardwood flooring is attractive, as it lasts for years and is relatively durable, but installation can be expensive. In addition, the flooring requires regular waxing and refinishing to maintain its beauty. With a unique look and strength that surpasses hardwood, coupled with its ability to renew quickly in nature, bamboo is quickly becoming one of the hottest flooring trends. It is also resistant to moisture and very durable, resisting nicks, scratches and warping.
Artificial Turf Finds New Life in Yards
Grass is the key element to a well-maintained yard, keeping the home cooler on hot days. Unfortunately it requires constant watering, mowing and fertilizing to stay looking beautiful, none of which is very environmentally friendly. Now no longer just for football fields, artificial grass stays green year-round and doesn't require watering or mowing. It will also withstand heavy foot traffic and is great in areas where grass is difficult to maintain.
Tips for Selecting Quality Faux Products
With all of the look-alike products flooding the market, homeowners need to remember that not all faux is created equally. Many imitations are designed to be quick fixes instead of long-lasting quality alternatives. To avoid making regrettable mistakes, JELD-WEN offers a few tips to keep in mind:
Identify the specific performance benefits you need from a faux product, such as weather resistance and energy efficiency.
Do your research and ask for product information, comparing appearances, pricing, warranties and benefits.
Judge products side-by-side with their inspirations and talk with others who have used them.
Weigh performance advantages versus appearance. If you like the look of a real wood front door but don't have time for the maintenance, a fiberglass door with a wood grain texture might be a better choice — and a more cost-effective decision in the long run.
While many homeowners and builders feel that nothing can improve upon traditional materials, more are discovering that high-quality faux products can be just as durable and visually appealing.
For more information about JELD-WEN exterior and garage doors using alternative materials, visit www.jeld-wen.com or call (800) 877-9482.
Courtesy of ARA Content
---