Preserving Lyons Dam Property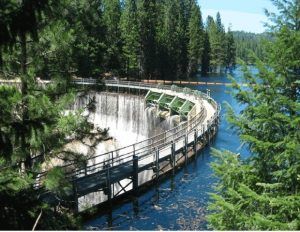 Lyons Dam Reservoir

View Photos
Twain Harte, CA — Tuolumne County is interested in becoming the owner of approximately 1,000 acres around the Lyons Dam and Reservoir.
The property is owned by PG&E, but must be donated for public use as part of a bankruptcy settlement. One entity will obtain fee title to the property and another will serve as the conservation easement holder. It is similar to the situation that occurred last year, when Tuolumne County was selected to be the fee title holder for the Kennedy Meadows property and the Mother Lode Land Trust was picked as the conservation easement holder.
"I think that this is another great opportunity to preserve a local legacy for future generations," says Teri Murrison, District Three Supervisor. "We have a number of local groups that are expressing interest in it, including the Tuolumne Utilities District, the Resource Conservation District and perhaps the (Mi Wuk) Tribe."
PG&E will still continue operations within the property related to water and power through easements.
The Supervisors have voted to submit an application to the Stewardship Council, the group that will select a finalist. The deadline to register is July 30. Meetings between the Stewardship Council and interested groups will start in August.
Written by bjhansen@mlode.com.