Suspected Thief Caught Red Handed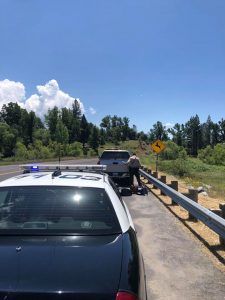 Burglary suspect's truck pulled over on Tuolumne Road North

View Photos
Tuolumne, CA – Spotting a driver that matched the description of a suspect wanted in connection with multiple burglaries, including one at a Sonora church, a deputy pulled over a truck and found plenty of evidence linking the man to the thefts.
A Tuolumne County Sheriff's Deputy pulled over in his Toyota Tundra on Tuolumne Road North Thursday afternoon. Behind the wheel was, 43-year-old Jason Cerrutti of Murphys, suspected of  several break-ins around the Tuolumne area and at the Christian Heights Assembly-God Church in Sonora, off Tuolumne Road.
Cerrutti was on Post Release Community Supervision and an ankle monitor placed him at the theft locations on the date and times the burglaries occurred, according to sheriff's officials. A search of his vehicle turned up multiple stolen items including: bolt cutters, numerous keys, several pairs of gloves and wire cutters. He also had Deputies also had methamphetamine and drug paraphernalia on him.
Cerrutti was arrested and sheriff's officials relay that the stolen property was returned to the victims.