PG&E Not Responsible For Deadly Northern Wine Country Fire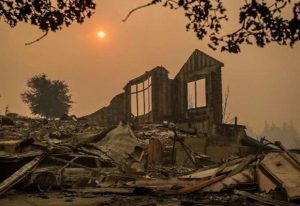 Tubbs Fire

View Photos
Sacramento, CA – CAL Fire cites that after an "extensive and thorough investigation," the deadly Tubbs Fire was the result of a private electrical system and not PG&E.
In a report released today, state investigators determined that the Tubbs Fire, which occurred during what they call the "October 2017 Fire Siege," was caused by a private electrical system adjacent to a residential structure. CAL FIRE also noted that investigators did not identify any violations of state law, or Public Resources Code, related to the cause of this fire.
Cal Fire Battalion Chief John Martinez wrote in his report,  "I eliminated all other causes for the Tubbs Fire, with the exception of an electrical caused fire originating from an unknown event affecting a privately owned conductor or equipment."
The name of the property owner and address were blacked out of the report. However, it did reveal that the Napa County property was about 3 miles north of Calistoga and was built in 1946 on about 10.5 acres with a wine cellar, pool and several outbuildings.
The Associated Press is reporting that PG&E stated in a Jan. 2 court filing that it believed a handyman performing unlicensed electrical work started the wine country fire. In that filing, it identified the owner of the Napa County compound as Ann Zink. The utility said it provided electricity to Zink's property by a line that connected to a service riser but that Zink had a private system to carry power to other buildings as well as equipment such as a water pump and water storage tank. PG&E noted that it had no responsibility to maintain or inspect the private system.
As reported here last week, PG&E announced its plans to file for bankruptcy protection next week. The utility citing that billions of dollars in potential damages from lawsuits linking its equipment to other deadly blazes in the state were determined to be the company's fault. In a statement released by PG&E on Thursday, the company noted that despite this finding, it "still faces extensive litigation, significant potential liabilities and a deteriorating financial situation."
An attorney for victims of the Tubbs Fire shares that the findings would not have much effect on the lawsuits he has filed. He added that there are still questions about why PG&E did not cut power to the area despite a high fire danger and claims that there is also evidence that contradicts the findings of state fire investigators.
In the state's report, it also noted that one witness reported seeing a transformer explode. Another reported seeing the fire approach a PG&E power pole. The Tubbs Fire was one of more than 170 that torched the state in October 2017. The blaze claimed 22 lives and destroyed more than 5,600 structures over more than 57 square miles in Sonoma and Napa counties. To view CAL Fire's entire report click here.