More Details Emerge In Mi-Wuk Village Loaded Firearms Arrest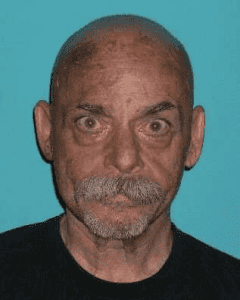 Frank Pierro TCSO Booking Photo

View Photos
Sonora, CA — Sheriff's officials are providing more information about what led them to issue a 'stay indoors' order and the armed suspect arrested in connection with it.
A report of a suspicious person shooting resulted in deputies being dispatched to the area of Pine Lake Drive in Mi-Wuk Village yesterday. Tuolumne County Sheriff's spokesperson Sgt. Andrea Benson reports that once there, responders heard two shots fired. Altogether she says 13 personnel were on scene and the order for residents to shelter in their homes held for several hours before the incident finally concluded.
Sgt. Benson further recounts, "A civilian contacted our office while deputies were on scene and advised that the man, later identified as 68-year-old Frank Donald Pierro, pointed a rifle at him as he drove by. After an extensive search was conducted, Pierro was located behind a residence and pointed a loaded [Henry repeating arms action 45-70 govt] at a deputy." She adds that officials also retrieved a Ruger Vaquero revolver from the suspect and further determined that he was under the influence of a controlled substance.
Evidence Of Gunshots, Weapons, Ammo, Drugs Confiscated
Making a security sweep of Pierro's residence, responders spotted damage resulting from gunshots and at a neighboring residence found further evidence of a gunshot fire. During the service of a search warrant at Pierro's home, multiple firearms, various ammunition, and a baggy containing methamphetamine were collected as evidence.
Pierro was subsequently arrested on the following charges: negligently discharging a firearm; possession of and being under the influence of a controlled substance; possession of a controlled substance while armed with a gun; also exhibiting a firearm in the presence of a peace officer. He was assigned a $50,000 bond.
"We are thankful the situation ended peacefully with no injuries," Benson says. She also credits the responders for maintaining extreme patience and professionalism under tense circumstances.
"It could have been an obviously scary situation for the public as well as for the deputies…it took at least over five-six times of ordering him to drop the rifle," Benson notes. "Then he did end up eventually grabbing a revolver out of his pocket — and pointing that in the air — and that took several orders as well for our deputies to get him to drop the weapon."