Update: Crisis Negotiators In Jamestown Dealing With Barricaded Subject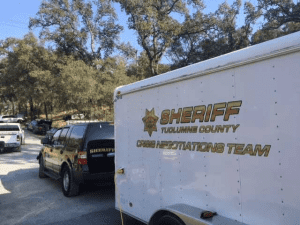 TCSO Crisis Negotiations Team on scene

View Photos
Update at 8:30pm: The Tuolumne County Sheriff's Office reports that 38-year-old Robbie Hull exited the home and was taken into custody for domestic violence. The roadway has reopened to traffic.
Original story: Sonora, CA — The public is being alerted to crisis team law enforcement activity in the area of Pulpit Rock in Jamestown.
According to Tuolumne County Sheriff's spokesperson Sgt. Andrea Benson, deputies responding to a domestic disturbance are now dealing with a barricaded subject. She further reports that the Sheriff's Crisis Negotiation Team is on scene working towards a peaceful resolution and that folks should stay out of the area until further notice.