Bret Harte High To Induct Inaugural Athletic Hall Of Fame Class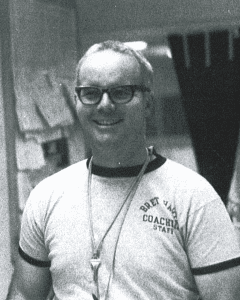 Bret Harte High Athletic Hall of Fame Inductee Coach Clements

View Photos
Angels Camp, CA — A special weekend is in the works for a local high school community that will be bestowing new hometown honor on 19 of its own.
According to school officials, the Bret Harte Athletic Hall of Fame Class will celebrate a selection of former athletes, teams, coaches and supporters who have made a difference over the years. While the criteria for individual inductees is based primarily on their achievements, officials emphasize that character values during and after their time at Bret Harte are also a major consideration.
During a scheduled "Hall of Fame Weekend" coming up Friday, Sept. 28 through Saturday, Sept. 29, 2018, the honorees will be introduced on the field before the Bret Harte Bullfrogs varsity football team takes on Sonora High at home. The induction ceremony will follow the next evening during the induction dinner at Mark Twain Hall on the Calaveras County Fairgrounds. Tickets to the dinner are available to the public. Click here for details.
Among this first class of inductees is long time coach and teacher Harold Clements, who began working at the school in 1968 and immediately became involved in the school's football and track programs. Over the course of the next 22 years, Clements led the football program to 110 wins; five MLL championships; three section runner-up titles in 1978, 1986 and 1987 — and in 1979 a section championship. During his track coaching tenure his teams won 55 MLL championships and two section championships.
A high school athlete himself, Clements won all-state football and track honors in Iowa. He received his BA in physical education at San Jose State after also attending the University of Denver and Arizona State College. In class on the playing field and at the Clements' home, where athletes often ate and relaxed before competing, school officials note his positive influence on over a thousand students.
The Class of 2018 Athletic Hall of Fame student-athletes are as follows:
Melvin Nayden, Class of 1951
Ray Barnett, Class of 1957
Archie Barnett, Class of 1961
Mike Lewis, Class of 1964
Richard Cathcart, Class of 1967
Hal Dillashaw, Class of 1975
Mary Harper, Class of 1984
James Hecker, Class of 1985
Dawn Miner Carroll, Class of 1989
Tanya Dooley Ehlert, Class of 1990
Brian Singleton, Class of 1991
Kellie Cathcart Taylor, Class of 1993
Anthony Eberhardt, Class of 1993
Amy Pimentel Allaire, Class of 1994
Brian Barnett, Class of 1997
Becca Bales Kane, Class of 2000
Additionally, Coach Anthony O'Geen, who coached the 1988 and 1989 Girls Cross Country championship teams — whose members are included in the above list — will be honored along with those teams. In the "Friend" category, William Harper is also being inducted in recognition of his service and support of the Bret Harte High Athletic Program.