Columbia Air Base's Copter 404 Assisted On Mayday Call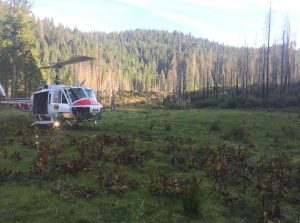 CAL Fire Columbia-Airbase Copter 404 lands to help downed plane Aug 20 2018

View Photos
Sonora, CA — CAL Fire Tuolumne-Calaveras Unit has shared images of an interesting assistance call Copter 404 was in on this week to assist a downed pilot.
Tuolumne County sheriff's officials say they were contacted Monday afternoon around 4:30 and were told that USFS Helo heard a distress call from a private aircraft for which FAA had a record. Columbia and Pine Mountain Lake airports were checked to determine if the aircraft was there.
After a spot beacon was activated, CAL Fire Copter 404 aircraft flew over to check out the Clavey/Two Mile Creek area, a spot described as difficult to access by ground and sighted the aircraft where the creek flows into the Clavey River. The copter then landed, recovered the uninjured pilot and flew back to Columbia airport.
Few other details are available at this time since there was no tail number to provide to the FAA. CAL Fire and sheriff's officials did not have any further incident details. To view CAL Fire TCU photos, which show that the plane remained intact upon landing, click into the image box slideshow.