More Buses, Back To School Bustle This Week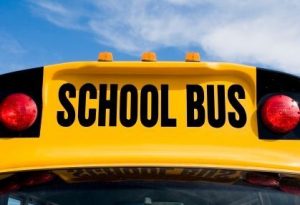 School Bus

View Photos
Sonora, CA — Although some Mother Lode school districts are already back in session, most of the schools in Tuolumne County head back tomorrow, which has local school and law enforcement officials asking folks to be extra alert, plan for extra road time and slow down!
Today is the first day back to class for students at Sonora Union High School and Soulsbyville Elementary.
Tomorrow, the following schools begin: Summerville Union High School District, which includes Summerville Elementary, Summerville High and Connections Academy; also the Big Oak Flat Groveland School District, which includes Tenaya Elementary and Don Pedro and Tioga high schools;  Vallecito School District; Belleview, Curtis Creek, Columbia, Jamestown, Sonora and Twain Harte elementary schools; Mother Lode Christian, Foothill Leadership Academy and Gold Rush Charter School.
Fall classes begin at Columbia College on Aug. 27 and Sierra Waldorf School starts Sept. 5 and its kindergarten Sept. 6. Bret Harte High School got back to the books last Wednesday; classes within Calaveras Unified School District began July 24, since its schools have a year round schedule that has two-week breaks in October and March.
Back To School Safety Tips For Everyone 
Tuolumne County Sheriff's officials stress that it is vitally important that students and the motorists around them take proper safety precautions. Motorists should remember not to block crosswalks and yield to pedestrians in crosswalks, taking extra care in school zones.
Never pass a vehicle that is stopped for pedestrians or pass a bus loading or unloading children. Officials remind drivers that the area ten feet around a school bus is the most dangerous for children so make sure to stop far enough back to allow them to safely enter and exit their bus.
They also recommend that parents, in addition to being aware and following schools' specific drop-off procedures — whether your kids walk, ride their bicycle or take the bus — they use best practices and adhere to the rules below.
For Children Walking To School:
* Use sidewalks if available; if they must walk in the street make sure they walk facing traffic
* Before crossing any street, stop and look both ways to check for oncoming traffic to make sure it's safe to cross
* Never dart out in front of a parked car
* Never walk "distracted," meaning do not walk while using headphones, texting or talking on the phone
Parents with kids who are not yet familiar with the way to and from school are advised to practice walking the school route with your child so they show where and how to cross the streets — and use all the available crosswalks when doing so
For Students Who Ride Bikes:
* ALWAYS wear a helmet that is fitted and secured properly
* Know the road rules: ride single file on the right side of the road; come to a complete stop before crossing the street and WALK the bike across
* Watch for possible sudden movements such as car doors opening and other hazards
* Use hand signals when turning
* Wear bright-colored clothing
For Kids Taking The Bus:
* Line up six feet away from the curb as the bus approaches
* Use the seat belts if the bus has them
* Wait for the bus to stop completely before getting up from your bus seat
Here's to a safe school year ahead for all as we share the Mother Lode roadways and sidewalks.