Local Veterinary Resources Remain Disaster Ready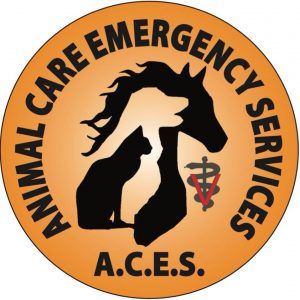 Animal Care Emergency Services ACES logo

View Photos
Sonora, CA — As containment grows on the Donnell Fire and most of Yosemite reopens, animal rescue teams as yet unneeded this fire season gamely await future disaster calls.
Christina McEwen, a registered veterinary technician for Tuolumne County Animal Control, shares with Clarke Broadcasting that ACES, which stands for Animal Care Emergency Services, is a brand new OES/FEMA certified professional team of volunteers formed especially to care for animals that have been evacuated from fires.
Its current 28-member roster consists of five veterinarians, several registered vet techs, nurses, assistants, and specialized animal caregivers. McEwen says that the team has developed a system of care and will provide shelter, bedding, medical needs, water and food as needed during wildfire disasters and other emergencies. They also keep a resource list of support resources, such as ranch and land owners who have agreed to donate use of their properties.
Lessons Learned Butte, Detwiler Fires 
McEwen recalls that it was during the Butte Fire when she worked for Mono Way Vet that she saw the need for a team while visiting an evacuation center to drop off supplies. "It was kind of like, wow, they really need some help and they were scrambling together to get vet techs…the first thing that came to my mind is — how do you know this person is a vet tech… a doctor… who are these people treating these animals — and what happens if they get injured?"
Fast forwarding to the Detwiler Fire, McEwen, by then an RVT at Tuolumne County Animal Control, saw similar circumstances; realizing that before the next disaster struck, forming a team of vetted professionals would require looking at qualifications, doing background checks and getting certifications completed. So that process ensued.
Now, in order to activate ACES, McEwen explains a request would need to come from Tuolumne County Animal Control or through that office from say the Sheriff's Office as part of official OES steps being taken.
Animal Needs Low During Current Wildfires 
"So far, there has not been a giant need and there has been sufficient personnel during the Ferguson and Donnell fires," McEwen notes, adding that she keep tabs on both and in the case of the Donnell Fire, there were zero animals in the small animals shelter that had set up in Mariposa County.
As far as related livestock needs go, "Most of those people that have the private ranches and grazing cattle on the forestry lands were able to move their animals right away," she recounts. "I know that Kennedy Meadows has moved their horses to a safe location." In addition to ACES, Tuolumne County has another entity, Team ELITE, which is also OES and FEMA certified. "They have been around for awhile and do large animal evacuations and have trailer inspections through DOT," McEwen states, explaining the distinctions.
"Luckily, no animals have been harmed [in this season's wildfires] and no one has needed ACES so far, which is a good thing," she adds, hoping that folks will be happy to know that local resources are at the ready for animal safety and care when the need arises. After all, she points out, "It is only August, and [wildfire season] is just getting worse every year."