Sheriff Asks Public's Help In Finding Stolen CCWD Truck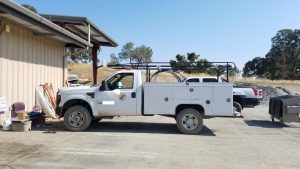 CCSO Photo of burglary scene and similar truck Aug 15 2018 at CCWD VS Treatment Plant

View Photos
San Andreas, CA — Under cover of night burglars stole away from a water district's equipment yard in a logo emblazoned work truck. Folks are now asked to keep an eye out.
The theft happened either late Tuesday night or early this morning, according to Calaveras County sheriff's officials, who report that one or more unknown suspects broke into the Calaveras County Water District (CCWD) Treatment Plant in Valley Springs and accessed the property.
Although evidence pointed to attempts made at stealing several vehicles, including a tractor and another truck that was damaged by a hot wiring attempt, just one 2011 white Ford F350 truck was taken. It is described as having a CCWD emblem on the doors; a utility box bed with a small crane and a black-colored lumber rack. The vehicle was also bearing California license plate #1358918.
Anyone spotting a truck with a similar description and/or with possible information about the incident is asked to call the Sheriff's Office at 209 754-6500. Click into the image box to view a photo of a vehicle similar to the one that is now being sought.