Deputies Detain Driver And Discover Loaded Guns, Two Pounds Of Meth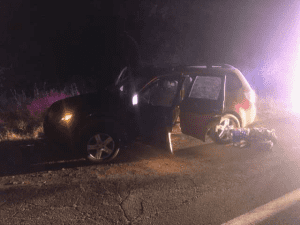 Smith St Louis Arrest Scene Photo Aug 12 2018

View Photos
Sonora, CA — In the early hours Sunday, a car with several vehicle violations flagged the interest of Tuolumne County deputies, who pulled it over and wound up arresting a pair of suspects for multiple felonies.
According to Tuolumne County Sheriff's spokesperson Sgt. Andrea Benson, the traffic stop in the area of Horseshoe and Springfield roads in Sonora around 1 a.m. turned out to be a major bust. Once contacted by deputies, the driver, 35-year-old James St. Louis of Glendive, Montana, admitted to having several loaded guns in the car, also confiding that while one of the guns was his, one "might" be stolen. Deputies searching the car found a total of three unregistered handguns of which two were loaded. They also turned up bags containing two pounds of methamphetamine.
Deputies arrested him and his passenger, 37-year-old Nicole Smith of Sacramento, on charges of possession and transportation of methamphetamine for sale. St. Louis faces additional charges of possessing a large capacity magazine, possessing a concealed weapon, and possessing a controlled substance while armed. Smith was also booked on an outstanding warrant for her arrest in Tuolumne County. Both were assigned bails of at least $100,000.