Fostering College Entrance For Youth In Need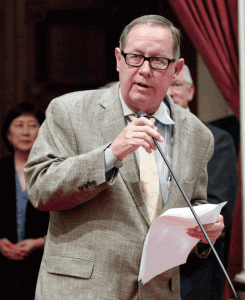 Senator Tom Berryhill

View Photos
Sacramento, CA – Mother Lode State Senator Tom Berryhill's tuition bill passes through committee with high marks.
Today, the California State Senate Education Committee, with bi-partisan support, voted unanimously to pass Senate Bill 967 authored by the Republican legislator. Dubbed the "Foster Youth Tuition Legislation," the measure will waive Community College, CSU, and UC tuition and fees for foster kids who have been in foster care for at least twelve months.
"I have served on the Human Services Committee for almost twelve years and have watched foster youth fight their way through the system. Anything we can do to help them break the cycle and earn a college degree is important," said Berryhill.
Berryhill points to studies that show youth in foster care are less likely to enroll in college if they complete high school, and less likely to graduate from college if they enroll. The survey notes that reason for the educational gap can be attributed to the fact that foster kids often cannot turn to parents for information about college, help with college applications, or assistance with their tuition.
Berryhill details that 28 states already have tuition waiver programs in place.  He adds, "Removing this barrier to education has the potential to be a true game changer in the lives of so many foster youth in this state."