Man Uses Lawn Ornament To Threaten Others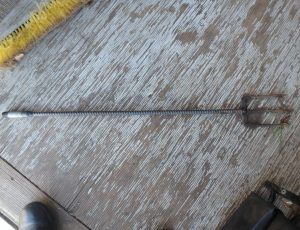 Trident type weapon

View Photos
Sonora, CA – A Sonora man was taken into custody after causing a ruckus and brandishing lawn art as a weapon.
A call reporting a male causing a disturbance and refusing to leave a residence brought officers to the 500 block of South Stewart Street around 8:30 a.m. on Wednesday. Officers learned that 22-year-old Jacob Hoskins knew the home's owner and had been knocking repeatedly on their door since about 7:30 that morning. When the residents attempted to leave the home Hoskins allegedly grabbed a trident-shaped yard ornament and threatened them with it. A picture of the lawn ornament is in the image box.
Hoskins was arrested and booked into the Tuolumne County Jail for brandishing a deadly weapon in a threatening manner.