Pipe Bomb Arrest In Sonora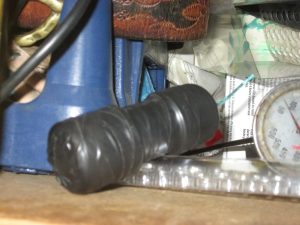 Pipe bomb found in closet

View Photos
Sonora, CA – Deputies conducting a probation search at a Sonora home made a scary discovery – a pipe bomb in a closet.
Tuolumne County's High Risk Supervision Team carried out the raid at the Star Mobile Home Park in the 20100 block of Jamestown Road in Sonora.  Both residents, a mother, 39-year-old Angel Cepeda and her son, 24-year-old Joseph Cepeda were on probation for drug related charges. A sweep of the mobile home resulted in deputies finding drug paraphernalia, a billy club and inside a closet was what appeared to be an explosive device, which is pictured in the image box. All found in the son's room, according to sheriff's officials.
The Calaveras County Sheriff's Office Bomb Squad was called to the scene to safely dispose of the apparent pipe bomb. Also found in the home were 24-year-old Armando Gonzalez and 25-year-old Brian Young. Gonzalez, who was on probation, was found to have drug paraphernalia on him, landing him in handcuffs for a felony violation. A search of Young revealed he was hiding a M-80 style fireworks and he was arrested for illegal possession of fireworks.
Joseph Cepeda was taken into custody for felony possession of a destructive device and a billy club along with drug paraphernalia charges.