Second Chance For Success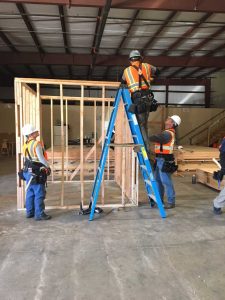 Tuolumne Construction Training Program

View Photos
Sonora, CA — A local construction training program graduates will soon be heading out into the work force with some major skills – and give the community an economic boost.
This is the 3rd graduation for the Tuolumne County Collaborative "Construction Pre-Apprentice Training Program." Ten residents have finished the intensive six-week course, which included multiple industry-recognized certifications, hands-on training with construction tools, and job application assistance for jobs related to construction, carpentry, electrician, plumbing and roofing. Julia Stephens, program coordinator, comments on this third class, "It was surprisingly competitive this time as word on the program is getting out.  For many of the participants, this training provides a "second-chance" at success after they have overcome challenging hurdles in their life. I ended up getting about 50 applicants, from that we selected 20 to interview and ended up selecting 12 to participate."
For many of the participants, adds Stephens this training provides a "second-chance," explaining, "Some of them are just getting their feet on the ground and don't have a lot of life experiences. Some of them have had a couple rough patches in their life. This is an opportunity for them to really turn their lives around and as a catalyst for the next step in their lives. It's inspirational!"
The program is good for the community, boasts Stephens who indicates, "I've heard over and over again from local businesses that there are not a lot of young adult or even just people of working age that want to work with their hands anymore, but there's a huge need. It's not a minimum wage kind of job that you get out of this program. So, it allows for economic growth with them putting money back into the local economy and allowing them to thrive, as well."
The graduation celebration is Friday (March 16th) from 11a.m. to 1 p.m. at the Sonora Opera Hall.  Some of the guest speakers will include representatives from San Francisco Public Utilities Commission (SFPUC) Hetch Hetchy Headquarters in Moccasin, the Laborers Union, and Carpenters Union.
A date for the next training program has not been set yet, but Stephens interested applicants can get more information by emailing her at  jstephens@sjcoe.net or calling 209-401-1966.