Traffic Stop Turns Into A Hefty Take Down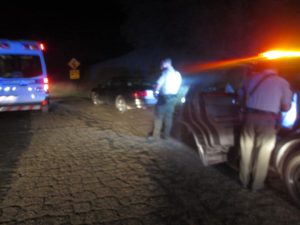 Wigwam Road in Jamestown arrest scene

View Photos
Jamestown, CA – A traffic stop turned into a scuffle, as a man struggled with Tuolumne County Sheriff's Deputies.
A deputy pulled over a Buick sedan on Wigwam Road off of Highway 108 in the Jamestown area for a suspended registration on Thursday night. Three people, two men and a woman, were inside the car. A records check showed one of the men was on searchable probation.
As additional backup arrived, the driver, 43-year-old Eric Neves, standing 6'2" tall and weighing around 300 pounds, got out of the vehicle. During questioning, he admitted to having a weapon, so deputies attempted to pat him down, but he pulled away and began wrestling with them, according to sheriff's officials, who add that he also ignored orders to freeze. The scuffle continued until deputies were able to handcuff Neves. A knife was then found in his pocket.
Sheriff's officials report Neves suffered minor injuries in the skirmish, but none of the deputies were hurt. He was taken into custody for obstructing and resisting law enforcement.
Regarding the other two passengers in the car, 44-year-old Meri Johnson was arrested for having drug paraphernalia and the other man, who was on probation, was released from the scene.