Bike Race To Shutdown Sections Of Sonora Roads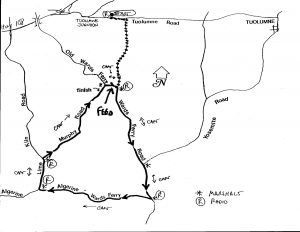 Wards Ferry Bicycle racing event map

View Photos
Sonora, CA – The closing of several sections of Sonora roads for two-wheel vehicles is prompting organizers to ask for the public's cooperation.
The Golden Chain Cyclists and Velo Promo LLC are sponsoring its 20th annual bicycle race Saturday (March 10) from 8 a.m. to noon. The race route is a 12-mile loop around Wards Ferry, Algerine, Lime Kiln, Murphy and Old Wards Ferry roads, as shown in the image box map. Traffic will be halted during those hours except for resident living along the route, according to organizers, who acknowledge that they will be able to come and go during short race delays throughout the events and some re-routing. The race actually starts near the Tuolumne Utilities District office on Tuolumne Road. Cyclists will head down that road to enter onto the loop at Wards Ferry Road.
Residents on Algerine, Wards Ferry and Murphy roads are also asked to drive in the same direction as the racers. Two-way traffic will be allowed on Lime Kiln and Wards Ferry roads with possible short delays at each end. Nearly 200 riders will be racing the loop. Organizers caution motorists that racers can go faster than normal auto traffic and can come up behind vehicles quickly. They also warn that along the narrow areas of Algerine, Wards Ferry and Murphy roads that groups of riders may not allow for passing.
Finally, residents are asked to not let dogs run loose in the area, as both the rider and dog can be injured in an accident. Orange vested course marshals will be at the corners of the loop for further information. Everyone is encouraged to cheer on the riders along the route with bells, hollering and clapping. The riders are members of U.S.A. Cycling, which are amateurs from all over Northern California, including riders from Tuolumne County. Organizers boast that riders who have raced in local events in Tuolumne and Calaveras Counties in the past have gone on to be part of the U.S. National and Olympic Teams.