Mother Lode Congressman Blasts Trump's Tariffs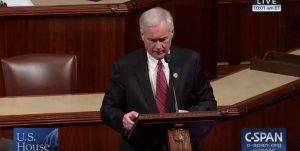 Congressman Tom McClintock giving House Floor speech
Washington, DC — Mother Lode Republican Congressman Tom McClintock is voicing opposition to President Donald Trump's call for new tariffs on imported steel and aluminum.
On the US House floor today he gave a speech entitled: "Snatching Scarcity from the Jaws of Abundance." Reading from it he stated, "There is no more perfect way to turn abundance into scarcity than by levying a tariff on imports. Yet, that was precisely proposed for steel and aluminum. By slapping a tariff on foreign steel imports, the amount of steel Americans can afford will diminish as the price rises. So too will the price of everything we make from steel from cans to cars."
Trump is planning to impose a 25-percent tariff on imported steel and 10-percent on aluminum. McClintock argues that the idea this will save jobs could backfire as workers in other industries reliant on these items could be forced to implement layoff or raise consumer prices to offset the tariffs.
McClintock's entire tariff speech can be viewed in the image box by clicking on "play video."