Helicopter Used To Locate Three Missing Snowmobilers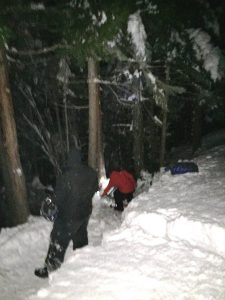 Snowmobilers rescued

View Photos
Tuolumne County, CA – With fresh snow on the ground, a group took off for a day of sledding fun, but it turned hazardous as they ended up separated and lost in the frigid wilderness.
The report of lost snowmobilers brought the Tuolumne County Sheriff's Search & Rescue (SAR) crews on sleds and the CHP H40 helicopter to the Snow Park off Hwy 108 on Sunday night to comb the area. Two men and a woman started their ride around 1 p.m. from the park. On one sled was 43-year-old Carlos Zuniga and the other carried both 47-year-old Brett New and 37-year-old Lynette Johnson. Sgt. Deborah Moss details, "The group planned to ride along the highway to Dardanelle and back, but got separated. The couple's sled ended up stuck in the deep snow near Eagle Meadows Road, forcing Johnson to head out on foot to get help. She was picked up by another snowmobiler who took her back to the park where she called 911 for help."
In the meantime, Zuniga realizing he had lost the other sled and headed east looking for them. Tired with his muscles cramping he used his cell phone to call 911, according to rescuers, who add that the helicopter pilot spotted him around 10:30 p.m. He was picked up and flown to Columbia Airport. About an hour later, rescuers on snowmobiles found New and discovered his sled nearly thirty feet down the hill.
Sgt. Moss notes, "None of the individuals were injured during the incident but all three were very cold." She recommends that snowmobilers should always stay together especially when in unfamiliar surroundings, dress appropriately for the weather conditions and have a contingency plan in case of emergencies.