Jamestown Arrest Involved An AR-15 Rifle Accessible To Kids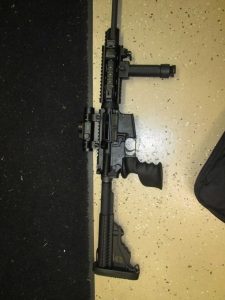 Loaded AR-15 rifle found

View Photos
Jamestown, CA – A call into dispatch of a woman yelling for help brought Tuolumne County Sheriff's Deputies to a frightening scene in Jamestown where a woman was attacked while a rifle lay on the floor nearby and children were in the home.
Deputies recently responded to a home in the 20000 block of Jamestown Road to learn of an altercation between a woman and 30-year-old Doug Pousard. The victim described how Pousard allegedly held her down against her will and punched her in the face, which deputies report she had visible redness, swelling and bleeding below her right eye.
During the investigation deputies also spied a loaded AR-15 rifle on the floor, which was easily accessible by the three children in the home, according to sheriff's officials.
Pousard was arrested and booked into the Tuolumne County Jail for domestic battery, false imprisonment, child endangerment, transfer of a firearm without a dealer, possession of a large capacity magazine, and criminal storage of a firearm. His bond was set at $35,000.