New Voter Registration Stats Show Strength Of Parties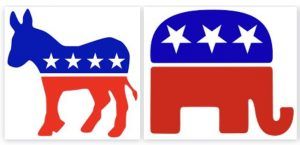 Political Parties

View Photos
Sacramento, CA — Statistics released by the state election's office show which political parties are strong in the state of California, and here in the Mother Lode.
Statewide, the percentage of Democrats has remained steady over recent years, the number of Republicans has fallen, and the amount of decline-to-state independent voters has increased.  Roughly 75-percent of eligible voters in California are registered. Of those, 44.6-percent are Democrats, 25.4-percent are Republicans and 24.9-percent decline to state.
In Tuolumne County, 42.5-percent are Republicans, 30.4-percent are Democrats and 20.9-percent decline to state. In Calaveras County, 42.4-percent are Republicans, 28.7-percent are Democrats and 20.8-percent decline to state.
All five of the supervisorial districts in Tuolumne County lean Republican. The narrowest is District One (Sonora) with 2,353 Republicans and 2,103 Democrats. The widest is District Four (Groveland) with 2,788 Republicans and 1,745 Democrats.
All five Calaveras supervisorial districts also lean Republican. District Three is the narrowest (Murphys and Arnold) with 2,302 Republicans and 2,104 Democrats. The widest gap is District Five (Jenny Lind and Milton) with 2,525 Republicans and 1,346 Democrats.
Modoc County has the highest percent of Republicans (50.7-percent) and San Francisco has the highest percentage of Democrats (57.8-percent).