Meth, Mushrooms And Heroin Bust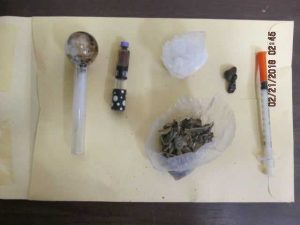 Drugs found

View Photos
Jamestown, CA – A deputy pulled over a vehicle with an expired registration and nets various narcotics concealed on the driver.
The red Mazda was stopped by a Tuolumne County Sheriff's deputy just after 1:30 a.m., Wednesday on Chicken Ranch Road in Jamestown. Behind the wheel was 31-year-old Burris Fisher of Keyes and a female passenger. A records check showed she was on parole, but no further details were released on the crime she committed.
A search of the vehicle turned up a methamphetamine pipe, which Fisher admitted was his. He was patted down with the deputy finding nearly six grams of methamphetamine, a container of liquid meth, a gram of heroin, 5.64 grams of hallucinogenic mushrooms, a hypodermic needle and another meth pipe hidden on him.
Fisher was taken into custody without incident. He was booked into the Tuolumne County Jail for possession of a controlled substance, possession of narcotics and possession of drug paraphernalia.