Sanitation Concerns Keep Highway 120 Tioga Pass Closed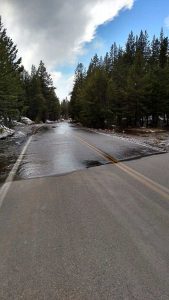 Flooding over Tioga Road (HWY120) in Yosemite National Park

View Photos
Yosemite, CA — Yosemite National Park officials report repairs along Highway 120 Tioga Pass continue as rising water from melting snow have flooded several sections of the roadway creating safety and sanitation concerns.
Tioga Road remains closed to all traffic, including bicycles. Following a record-breaking winter snowpack, Park staff continues to make repairs to power, communications, water, and sewer systems along the roadway. Park officials indicate that maintenance crews are working to ensure adequate sanitation facilities are in place for visitor needs and to protect the water quality in the Tuolumne River watershed.  Due to safety and sanitation concerns, the roadway will remain closed until those impacted systems are operational again, according to Park officials. However, no anticipated opening date has yet been set.
Highway 4 Ebbetts Pass also remains closed due to high snow levels creating clearing issues and road damage, but Caltrans has slated it to reopen sometime in July; meanwhile Sonora Pass Highway 108 is open to travelers.