Limited Reopening Of Yosemite This Weekend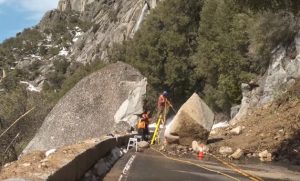 Cleanup Underway In Yosemite National Park

View Photo
Yosemite, CA — The public will have the first opportunity to visit Yosemite National Park in weeks, but the Highway 120 entrance will not be open.
The park will restore minimal access this Saturday, open from sunrise to sunset. The only access to Yosemite Valley will be via Highway 140 and El Portal Road, with a short detour in El Portal.
Hetch Hetchy will reopen Saturday from 8am-5pm, daily, but will only be accessible via Highway 120, west of Yosemite, and Evergreen Road.
The National Park Service adds, "While several miles of paved pedestrian paths in Yosemite Valley are plowed, all hiking trails are covered in snow. Wear waterproof boots and traction devices as even plowed paths can be icy. Hiking on snow-covered trails is not recommended."
More winter weather is in the forecast next week. Yosemite plans to reopen 24 hours per day, with limited overnight accommodations, starting Monday, March 20. More details will be forthcoming.
The National Park Service concludes, "The park has documented 22 rockslides, debris flows, and other slope failures along park roads during this time, most of which have been mitigated. Other services and areas of the park will reopen as park recovery efforts such as these continue."