Saint Patrick's Day Weekend Events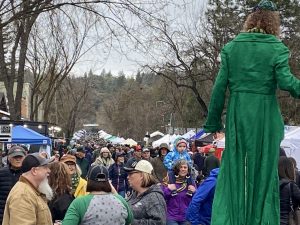 Murphys Irish Day Festival

View Photo
Saint Patrick's Day is Friday, March 17th and there are several community events planned this weekend.
The community of Murphys will welcome visitors this Saturday for the 30th Murphys Irish Day celebration. Irish Day, held annually in Murphys is one of the town's most popular draws, celebrates founders John and Daniel Murphy and also honors the patron saint of Ireland. For the early starters, a pancake breakfast will be served from 8 to 10:30 a.m. at the First Congregational Church there is a parade, the shops and many extra food and art vendors will be along Main street. More details about the event and the schedule of performances are in our event listing here.
The Curtis Creek Parent Association is hosting a Dr. Seuss Breakfast on Saturday morning from 9 through noon in the Curtis Creek School Cafeteria. They will be serving "Green Eggs and Ham" and pancakes with coffee and orange juice. All proceeds will go toward school activities, details about tickets are here.
The 36th Annual InFocus Photography Competition, Exhibition and Sale has opened its doors and the show wraps up March 19th at Angelo's Hall in Columbia State Park. Details are in our event calendar.
The Polystyrene Collection event will accept clean styrofoam including food containers only if they have been washed, packing grade polystyrene (used for shipping items such as electronics) with tape, tags, labels, etc. removed. Bring your polystyrene to the collection site Saturday or Sunday as detailed here.
On Sunday there is the Ride and Walk 4 Art at New Hogan Lake in Valley Springs, as detailed here. The event is rain or shine and they are accepting no more than 350 participants; 300 cyclists and 50 walkers.
Meet with people interested in birds at the Bird outing at Indigeny Sunday from 8:00 am to 11:00 am as detailed here.
Join a knowledgeable park ranger on a moderate 2 to 3-mile hike through carpets of native flowers on the Table Mountain Wildflower Hike Sunday. Details are in the event calendar.
Enthusiastic and positive volunteers are needed each season to coach local Youth Sports soccer teams. No prior coaching experience is necessary. Details are here.
Mother Lode Art Association's 68th Fine Art Show and Exhibition from April 7 through April 15 in conjunction with the City of Sonora's Art Week reminds artists the postmark deadline to submit an entry is Friday, March 17.
Elvis is playing at the Sierra Repertory Theater as detailed here.
Enjoy the view from our several webcams here, check out the movie times at local theaters, and the Snow Report in our weather section here.