Major Overhaul Planned For Twain Harte Shopping Center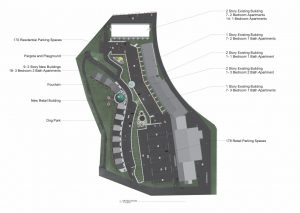 Twain Harte Villages Shopping Center Conceptual Plan

View Photo
Twain Harte, CA — There is a proposal to revamp the existing Twain Harte Shopping Center to include apartments, park areas, and more retail space.
The shopping center, which is currently anchored by the Twain Harte Market, has seen many of its spaces vacant over recent years.
The grocery store building would remain the same under the plan, but many other areas would be transitioned into 54 apartments. In addition, there would be a new retail building on the opposite side of the parking lot, a dog park, playground, water fountain, exercise park, and other amenities.
The project applicants are Howard Schindler and Saul Gevertz. For the project to move forward, the county will need to rezone the property from General Commercial to Mixed Use, amend the General Plan related to the land use designation, issue a Site Development Permit, and approve a Conditional Use Permit.
The eight-acre property is at the intersection of Tiffeni Drive and Twain Harte Drive.
Community Development Director Quincy Yaley reports that a Community Workshop, and informational session about the proposed project will take place on Wednesday, March 22, from 5-7pm at the Twain Harte Community Center at 18775 Manzanita Drive.