Tuolumne County Will Reconsider Noise Ordinance Next Year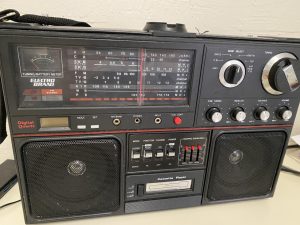 boombox

View Photo
Sonora, CA — The board of supervisors in Tuolumne County discussed whether it would be a good use of staff time to develop a noise ordinance for the unincorporated parts of the county.
Members of the board have received an increasing number of complaints, and a big factor is the rise of short-term, AirBNB type, rentals in the county. There has been an uptick in parties, and loud music, especially during the summer months and holidays, at these homes, and has caused disruptions in neighborhoods.
And it is not limited to those situations. Supervisor Ryan Campbell said that he was contacted by property owners in the Big Hill area a couple of years back about someone who moved in and started raising roosters for illicit activities, and the noise disruption it caused.
Campbell indicated that he and Supervisor David Goldemberg (who was absent at today's meeting), and Supervisor Jaron Brandon, had all expressed interest in the past about doing some form of noise ordinance.
Community Development Director Quincy Yaley noted the process to develop and implement an ordinance would be somewhat time-consuming, and may require a consultant to be hired, and additional staff time to implement.
Tuolumne County last explored a noise ordinance in 2008, but it was eventually denied, 2-3, by the county's planning commission. There were concerns raised at the time about what it would mean for places like wedding and entertainment venues.
Currently, the sheriff's office can cite someone for "disturbing the peace," but there are staffing limitations and difficulties in defining what that actually means. Having a firm noise ordinance on the books could help provide further clarification.
Supervisor Brandon proposed honing in on issues surrounding things like short-term rentals, and referenced a similar ordinance in Amador County, and how that could be a good guide for Tuolumne County. He also stressed the need to "keep it simple."
Supervisor Campbell also questioned the need to bring in a consultant, and said he would like to review the 2008 proposal that was already created.
In the end, board chair Kathleen Haff proposed bringing the noise ordinance issue back up in January of 2024 when the board is putting together its list of goals and priorities for the new year. It doesn't mean that the noise ordinance will move forward, but it will be readdressed at that time, and will not take away from existing projects/initiatives already underway. The other supervisors agreed to the plan, though Supervisor Brandon stressed that he would have preferred to see what he felt would be a simple solution brought back sooner, and mirroring what Amador County has already done.