Snow Still Creating Hazards For Pinecrest Lake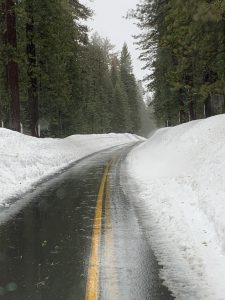 Road conditions in the Pinecrest Lake area

View Photo
County, CA — Stanislaus National Forest is once again advising visitors against making the trek up Highway 108 to Pinecrest Lake in Tuolumne County for a second weekend.
Last weekend, forest officials cautioned that the deep snow had made some facilities inaccessible, as detailed here. Regarding this weekend, they note, "The conditions have not improved at Pinecrest Day Use Area. The snow load is EXTREME. Bathrooms and parking are not available, the roads are narrow due to the snow load, and it is raining and snowing."
Additionally, visitors must not park in private driveways or block roads. Some roadways around the lake are not fully plowed, leaving just one lane open to motorists, as pictured in the image box. Snow removal work continues in the area, but continued winter storms are hampering those efforts.