Evacuation Center Opened In Tuolumne County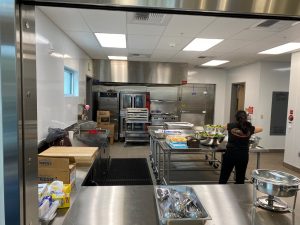 Tuolumne CRC Kitchen

View Photo
Sonora, CA – An evacuation center has opened in Tuolumne for those with home storm damage.
Tuolumne County OES advises that anyone who has had to leave their home due to collapsed roofs, flooding, or other storm-related issues is welcome. Staff is already on hand at the Tuolumne County Resilience Center, located at 18241 Bay Ave. in Tuolumne, to assist them.
In recent days there were at least 10 homes that experienced roof collapses due to heavy snow, and there have been some additional, in the past 24 hours, according to OES Coordinator Dore Bietz. Tuolumne County will be assessing the storm damage impacts over the coming days from the latest weather system passing through the region.
Bietz noted, "This is not open as a shelter at this time," which means no overnight stays. An update will be provided should that change.