Sonora Police Warn Public and Parents After Disturbing Discovery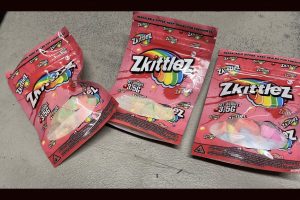 Fentanyl found in packaging of cannabis candy

View Photo
Sonora, CA – A search of a Jamestown man's vehicle uncovered large amounts of meth and lethal doses of fentanyl, according to police.
"We're actually seeing a pretty significant uptick in fentanyl in our community," shared police spokesperson Cpl. Thomas Brickley. He continued, "I don't have a percentage, but I can say that officers are now finding fentanyl on our subjects a lot more frequently than we did even a year ago."
While patrolling in the area of Highway 49 and Pesce Way in Sonora, an officer recently recognized 36-year-old Jonathon Gavi, who had a felony no-bail warrant for his arrest. The officer pulled him over, and he was arrested without incident.
A search of Gavi's vehicle turned up 59 grams of suspected fentanyl, 30 grams of suspected methamphetamine, a large canister of Bear Mace, a collapsible baton, a Billy Club, and drug sales items. The photo in the image box is the packaging that the fentanyl was found in, and it looked similar to a Skittles candy, but instead said Zkittlez. It was also labeled as CBD or cannabis candy. Regarding the danger to the public, Cpl. Brickley detailed, "It was extremely dangerous. In one package, there was more than enough to be lethal to any individual.
The police want to warn the public, especially parents, to be aware of this packaging as it can be very appealing to youth. Cpl. Brickley advised, "We encourage parents to keep an eye on their children and the items that they have. If they see any sort of product in a container that does not seem to be correct with the labeling, they should immediately call law enforcement for us to come out, investigate, and seize those items."
Regarding the street value Cpl. Brickley noted that they have not yet calculated a "street value." Gavi was arrested for felony drug possession and sale along with his parole warrant.