Nancy's Hope Building Vandal Arrested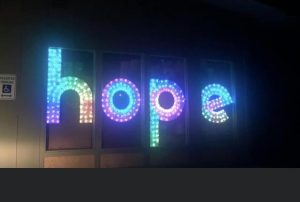 Sign at Nancy's Hope

View Photo
Sonora, CA – A transient has been arrested for vandalizing the non-profit Nancy's Hope Community Center last month, which also houses its thrift store on Stockton Road in Sonora.
It was just days after this new "Hope" sign pictured in the image box went up in one of the building's windows that founder Nancy Scott recounted an unknown man getting very angry about it, as reported here in February. Scott gave a description of the suspect and noted that he left "fingerprints all over the scene." In all, the suspect broke 11 windows and a door.
Sonora Police spokesperson Cpl. Thomas Brickley also revealed that security footage helped to identify the suspect, Chaz Carol, who was questioned about the crime. "The officer contacted that suspect, who initially denied any involvement," advised Cpl. Brickley. He continued, "Approximately one hour later, Chaz Carol came to the Sonora Police Department and admitted to committing the crime."
Regarding his motive, Cpl. Brickley shared that Carol had given one, but added, "Unfortunately, we're unable to disclose his reasoning as it is part of the investigation."
At the time of the crime, police estimated that the damage to the building was around $6,000, but Brickley advised that the investigation is ongoing and the final number could be higher.