Friend's Attempt To End Argument Results In Blows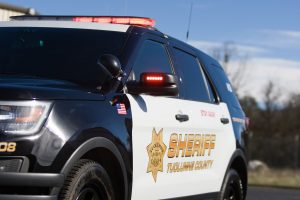 Tuolumne County Sheriff's Office Vehicle

View Photo
Columbia, CA — A friend who intervened in a couple's argument ended up being repeatedly punched by the suspect.
Tuolumne County Sheriff's Deputies responded to the area of State Street in Columbia for a report of a disturbance with several people yelling, and a male swinging at other subjects.
Once at the home, they discovered a woman with "visible injuries to her face." She was immediately taken by emergency personnel to Adventist Health Sonora for treatment.
During their investigation, deputies learned the female victim had intervened during an argument between 28-year-old Sean Corne and his girlfriend by demanding Corne leave the residence. Instead, sheriff's officials detailed, "An argument between the victim and Corne began, where he pushed her to the ground and punched her multiple times before leaving."
Deputies found Corne walking on Parrot's Ferry Road. After questioning, he was arrested for assault with force likely to produce great bodily injury, battery with serious bodily injury, and a misdemeanor warrant. Corne was placed on $50,000 bail.