Seeds for the Garden, Seeds for the Soul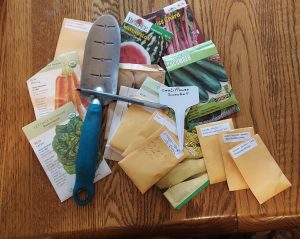 Photo by Jim Bliss of seeds

View Photo
When we think about farmers and gardeners, before the automation we now enjoy, we are reminded of simple hand tools and horse-drawn plows. But there is one critical piece of this picture that easily escapes our mind; seed did not come in little packets from the big box store.
Saving seed created next year's crop. For farmers, this meant that in a bad year when the lean times of late winter came, there was a store of seed tempting you with what could be a good meal. But eating next year's seed might mean no crop next year and you might lose the farm.
Today it seems that we are far removed from the dire consequences of drought and famine; seed is waiting on the rack near the checkout counter. But there are still good reasons to save your own seed and get together with others to exchange them.
Here in the Sierra foothills, prepackaged seed and plants can be pretty marginal for growing in our area. Big box stores have corporate buyers and many plants they offer need different conditions. (Many of us have learned this the hard way.) Some seed has an internal expiration date while others can last, if stored well, for hundreds of years. For example, old onion seeds probably won't germinate well, while wheat that came from the Pharaohs' tombs in Egypt has sprouted after three thousand years. Personally, I am of the belief that weed seeds NEVER die, they just keep coming back to irritate me.
In Tuolumne County, a great place to get your garden seed this year is the FoCuS Seed Share Event, held Saturday, February 25, 2023, from 10AM until 3PM, at the Tuolumne County Senior Center, 540 Greenley Rd, Sonora, CA.  This event will feature lectures and a seed share; a donation of $10 gets you 10 packets of seed. High-quality herb, flower and vegetable open-pollinated seeds adaptable to our varied foothill climate will be available. For more information and seed catalogs, go online at https://focusnews.org/seed-share/
Gardening is one of the best things you can do to help root yourself in the life of the world around you. Planting seeds and watching them germinate and grow is one of life's miracles that never ceases to enrich my soul. Rather than give a lot of specific advice, I invite you to attend the FoCuS Seed Share Event or contact the University of California Master Gardeners hotline at (209) 533-5912 or email us at mgtuolumne@ucdavis.edu. In the foothills our gardens vary from a few hundred feet in elevation to a few thousand. Advice for one could spell disaster for another up here. Come to the event and, not only can you talk to someone who shares you gardening interests and problems, you can share your own experience as well!
Jim Bliss is a University of California Cooperative Extension Master Gardener of Tuolumne County.